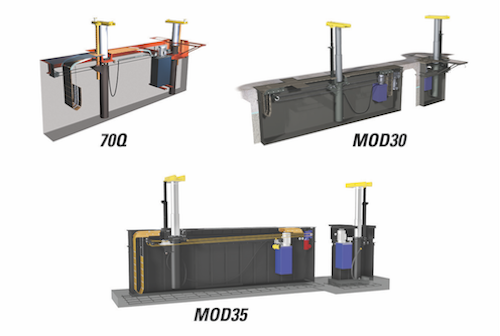 Fleet maintenance: For repair shops with heavy-duty inground lifts that are 20 to 40 years old, escalating maintenance costs and safety concerns can lead management to conclude that it's time for a new lift. If the price of an all-new heavy-duty inground lift puts it out of reach, Rotary Lift® offers three affordable retrofit options to install a new certified lift in the existing pit.

Rotary Lift's 70Q, MOD30 and MOD35 heavy-duty inground lifts are available as direct structural "frame only" replacements for all Rotary Lift standard inground lifts, as well as most competitive inground lifts of this vintage. If an existing pit is still good, this strategy can save shops up to 50 percent of the cost of installing a new heavy-duty inground lift in a new pit. At the same time, installing one of the new ALI-certified lifts will bring the shop into compliance with ANSI safety standards and International Building Code (IBC) requirements.

Each hydraulic jack in a Rotary Lift heavy-duty frame-only retrofit inground lift has from 25,000 pounds to 35,000 pounds capacity. In most 20- to 40-year-old pits, each inground lift cylinder is rated at 18,000 lbs. Before the Rotary Lift retrofit options can be considered, the shop's existing pit must be evaluated by a structural engineer to ensure it is in good condition and to determine how much additional load it can support.

"The cost of a new pit is a big part of the investment in a new inground lift," said Doug Spiller, Rotary Lift heavy-duty product manager. "We've found the majority of 20- to 40-year-old inground lift pits can safely handle additional lifting capacity. When that's the case, Rotary Lift provides viable and economical choices to upgrade to a higher-capacity, certified inground lift with minimal pit modification and cost."

Retrofit Option 1. 70Q, Rotary Lift's recently updated traditional inground lift is the most cost-effective retrofit option. Benefits include:
• Available with two to three posts for a lifting capacity of 50,000 to 75,000 pounds.
• Simple push button controls eliminate manual equalization of handles.
• Can be built in custom lengths from 13 feet to 24 feet in 1 foot increments, to fit the wheelbase needs of all shops.

Retrofit Option 2. MOD30 is the industry's original and best-selling modular heavy-duty inground lift. Benefits include:
• Available with two or three cylinders for a lifting capacity from 60,000 to 90,000 pounds.
• Ergonomic upright control console features joystick controls and technology that lets technicians access service, diagnostic and maintenance information, including up to 10 memorized whellbase settings.
• Energy-efficient electric drive assembly requires just a half horsepower motor for wheelbase adjustment.

Retrofit Option 3. Shops can increase lifting capacity and add the latest technology with a Rotary Lift MOD35 inground modular lift. Benefits include:
• Available with two or three multi-stage hydraulic cylinders to provide best-in-class lifting capacity of 70,000 to 105,000 lbs.
• Patent-pending pendant-only remote control lets technicians operate the lift from anywhere around the vehicle for more efficient spotting and lifting.
• Electric console can be located up to 100 feet away from the lift, providing technicians with additional work space around the vehicle.

Retrofitting a "frame only" MOD30 or MOD35 requires excavating additional space in the floor or pit for the power unit. Both of these premier heavy-duty lifts provide these additional benefits:
• VEC™ Equalization and Control System allows technicians to control jacks individually for vehicle spotting and simultaneously for lifting.
• Clear floor design: All housings are recessed to provide "zero clearance" drive-through when the lift is in the down position.
• Nitrided shutter plate trench covers that automatically move to keep the pit covered at all times.

All Rotary Lift inground lifts feature an exclusive EnviroGuard™ coating, a quarter-inch thick polyurethane sealant that protects both front and rear jacks from electrolysis and harsh contaminants. Rotary Lift's patented universal saddle adapter can be used with any of the company's heavy-duty inground lifts to provide faster and easier setup.

About Rotary Lift
Rotary Lift® is the leading brand of vehicle lifts designed to increase technician productivity. Rotary Lift was founded in 1925 by the inventor of the first hydraulic vehicle lift and now offers the broadest line of lifts for use in professional automotive service, commercial truck and transit applications. There are more Rotary Lift products used in vehicle repair facilities around the world than any other brand.
Rotary Lift is a Vehicle Service Group (VSG) brand. VSG is a strong, diverse and dynamic global leader in the vehicle service industry. It comprises nine major vehicle lifting and collision repair brands: Rotary Lift, Chief®, Forward®, Direct-Lift®, Hanmecson®, Revolution®, Elektron, Blitz and Nogra. With its American headquarters in Madison, Indiana, VSG has operations worldwide, including ISO 9001-certified manufacturing centers in the U.S., Europe and Asia. VSG is part of the Engineered Systems segment of Dover Corporation, a multi-billion-dollar, global producer of innovative equipment, specialty systems and value-added services. Rotary Lift is a GSA contract holder, GSA contract #GS-07F-8953D (Dover Industries, Inc., DBA Rotary Lift). Rotary Lift products are also available through a number of other government procurement programs, including NJPA (contract#: 061015-RRL), HGACBuy, CMAS, TXMAS, KCRPC and OGS.
For more information about Rotary Lift or other products, click here to go to Utility Products' Buyers Guide.