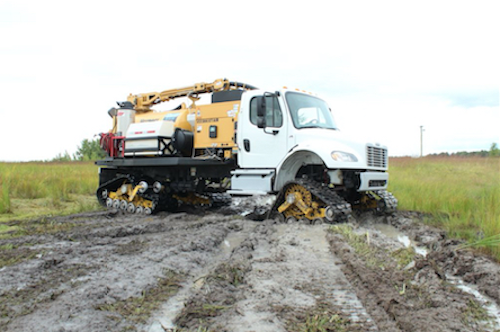 Construction equipment: Mattracks, the original manufacturer of rubber track conversions, has expanded its track offerings for automotive/truck applications with the release of its 400M1A1 model. This expands the Mattracks automotive lineup by doubling the load capacity of the 200 series, which was the largest truck system prior to the 400 series release. The 400 series is for use on commercial vehicles weighing up to 40,000 lbs. that require off-road mobility.

Designed for heavy loads and smooth rides, the 400M1A1 track conversion system features a 20 in. wide front track and 30 in. wide rear track. The 400 series is a hub mounted design to facilitate a fast conversion from tires to tracks with little to no vehicle modification. This model also features Mattracks' exclusive, patented rubber torsion anti-torque system, steering assist option, rocker suspension, and rear external idler for optimum sprocket wrap and fender clearance.

Mattracks' 400 series track conversion system adds versatility to commercial and industrial specialty vehicles such as drilling rigs, aerial devices, vacuum trucks and other service/maintenance vehicles.

Mattracks now manufactures more than 100 different models of Rubber Track Conversion systems for ATV's, UTV's, trucks, tractors, custom harvesters, swathers, sprayers, construction equipment, trailers and more. Mattracks serves both the recreational and commercial markets, and provides mobility solutions to applications that need to either access off-road sites or minimize compaction in fields or other sensitive areas.
For more information about Mattracks or other products, click here to go to Utility Products' Buyers Guide.