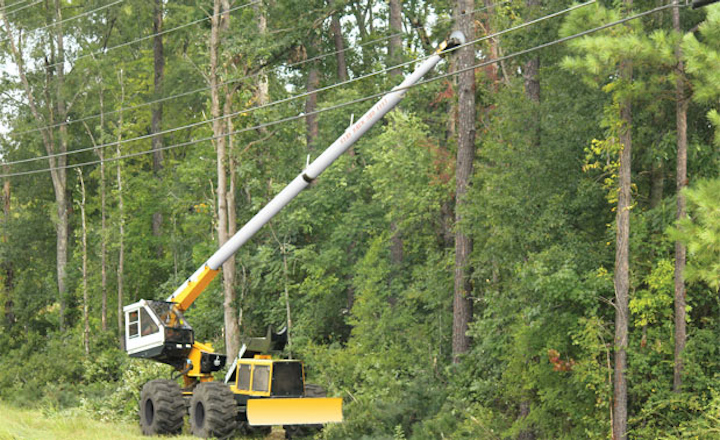 Line maintenance: The Jarraff All-Terrain Tree Trimmer is available in wheeled and track configurations and can safely travel in the most difficult and challenging terrain. This mobility, combining the Jarraff's cutting capabilities, lets ROW and tree trimming contractors clear and trim faster and more efficiently than ever before. Utilizing a Jarraff in combination with traditional tree trimming methods can improve productivity by as much as five times over traditional methods alone.
The 4-wheel Jarraff tree trimmer comes with several different tire options for a wide variety of transmission and distribution line ROW maintenance applications. These options range from small all-terrain tires to large, heavy-duty log-skidder style tires. The 4-wheel drive Jarraff offers minimal maintenance and a low ground pressure. Travel time is significantly reduced with this model.
The steel and rubber track model utilizes a rugged undercarriage. The undercarriage offers maximum stability and mobility, more than other types of tree trimming equipment or arborist equipment, allowing the user to go places other machines cannot. This model offers an extremely low ground pressure rating, making it ideal for wet conditions, like bogs, swamps, and alderbottoms.
For more information about Jarraff or other products, click here to go to Utility Products' Buyers Guide.