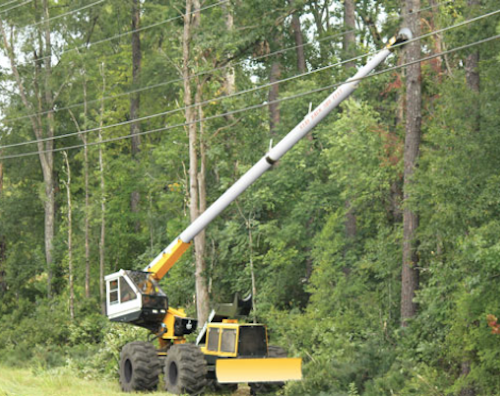 Utility vehicles: The 4-wheel Jarraff tree trimmer comes with several different tire options for a wide variety of transmission and distribution line ROW maintenance applications. These options range from small all-terrain tires to large, heavy-duty log-skidder style tires. The 4-wheel drive Jarraff offers minimal maintenance and a low ground pressure. Travel time is significantly reduced with this model.
The telescopic boom extends up to 75 feet with a 90-degree range of motion, providing unmatched cutting height. The non-conductive, high tensile fiberglass construction provides shock resistance and strength while limb deflectors protect the operator from sliding branches.
Ingenuity, innovation and experience go into every Jarraff All-Terrain Tree Trimmer. From the smallest hydraulic seals to the 75-foot boom, every machine is constructed with unsurpassed quality and craftsmanship. The means you can expect outstanding performance in the field whether its standard tree trimming and cutting or transmission and distribution line clearing.
For more information about Jarraff or other products, click here to go to Utility Products' Buyers Guide.