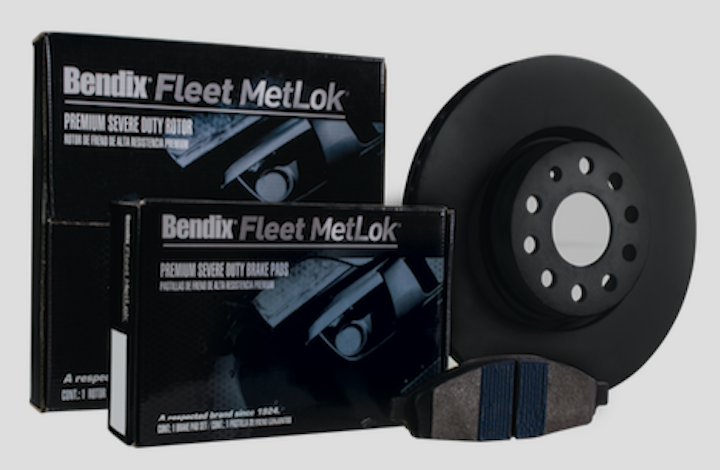 Utility vehicles: MAT Holdings Inc. announces the relaunch of the Bendix® Brakes brand Fleet MetLok® product line, a line of automotive disc brake pads and rotors designed specifically for use in severe-duty applications, as well as service and pursuit vehicles.
A trusted industry name for over two decades, the Fleet MetLok product line has been enhanced to provide even better friction performance and coverage, and expanded to include rotors as well as pads.
Bendix Fleet MetLok semi- and low-metallic brake pads feature friction formulations proven to provide noise-free performance, fade and heat tolerance, outstanding durability, and excellent stopping in demanding applications. They also feature a 3-layer shim, burnishing compound to reduce break-in time, and a hardware kit when applicable.
The Fleet MetLok rotors are built with Alloyed Carbon Performance Castings, which provide superior thermal stability and strength, and ensure safe operation in all driving conditions. Additionally, they are coated with the Bendix proprietary heat-resistant SurfaceLokTM coating, which extends rotor life by reducing corrosion.
The Fleet MetLok product line is ideal for use in heavy hauling, towing, frequent stopping, and pursuit applications, such as in work vans, tow trucks, taxis, police vehicles, construction pickup trucks, and more.
About Bendix®
The Bendix® Premium, Bendix® Fleet Metlok®, and Stop by Bendix™ product lines lead the automotive aftermarket industry in innovative, top-quality brake system components. For nearly a century, Bendix has been one of the top names for brake technology, with major product contributions to the automotive, aviation, aerospace and transportation industries. Combining the global engineering and production expertise of MAT Holdings and its exceptional reputation in brake technology, the Bendix brand remains at the leading edge of the automotive aftermarket with the introduction of new and enhanced brake products.
About MAT Holdings Inc.
MAT Holdings Inc. - MAT Automotive Braking Group is a leading global manufacturer of automotive braking components supplying vehicle manufacturers, motor racing customers and leading brands in the aftermarket. Since 1926, we have leveraged years of international brake system engineering expertise, technology, and state of the art manufacturing facilities to produce premium brake products for the marketplace. We are committed to driving continuous innovation and produce to the highest quality standards. We are proud to continue the Bendix legacy.
For more information about Bendix or other products, click here to go to Utility Products' Buyers Guide.