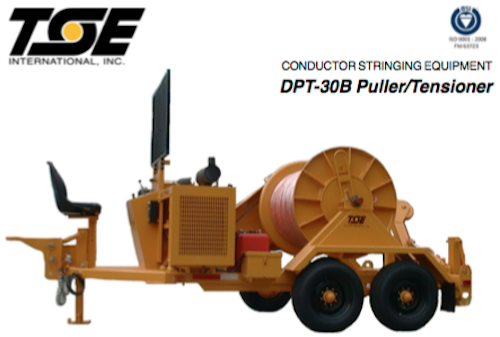 Construction equipment: The TSE Model DPT30B is a drum puller designed for the installation of distribution conductors. The reel drive incorporates the latest in hydrostatic transmissions that allow the operator to infinitely vary the linespeed and linepull for safe, positive control during the pulling operation. The maximum desired linepull can be preset prior to pulling so that the reel drive will stall if a restriction to the line occurs, avoiding damage to the conductor, towers, and hardware. In the tensioning mode, the hydraulic system permits the line to be pulled at a steady and controlled tension with automatic pull back to keep the conductor suspended if the pulling force is reduced. The central operator's console allows the operator to completely control the pulling operation with optimum visibilty of the pulling rope. Operator controls include linepull, linespeed, holding brake, levelwind and engine controls.
STANDARD FEATURES
• Proven hydrostatic pulling and tensioning system with a hydraulic oil cooler.
• 30 HP water-cooled diesel engine.
• Reel capacity up to 72" diameter, 54" wide and 6,000 lbs.
• Tandem axle with leaf spring suspension.
• Infinitely variable linespeed and linepull control.
• Free wheeling disconnect for high speed rope pull out.
• Spring applied-hydraulic pressure released holding brake. • Central operator's position for maximum safety andvisibility.
• Operator's seat with horizontal and vertical adjustments.
• Quick change reel shaft with straight vertical lift.
• Engraved operator's console.
OPTIONAL EQUIPMENT
• Bronze overspin payout brake (mechanical or hydraulic).
• Hydraulic overhead levelwind.
• Combination overhead/underground levelwind.
• Mechanical drop-leg rear jacks.
• Hydraulic front jack.
• 4440 heavy duty pulling drum.
• 4852 Heavy duty pulling drum.
• Underground pulling drum.
• BR6030 Breakaway reel.
For more information about TSE International or other products, click here to go to Utility Products' Buyers Guide.