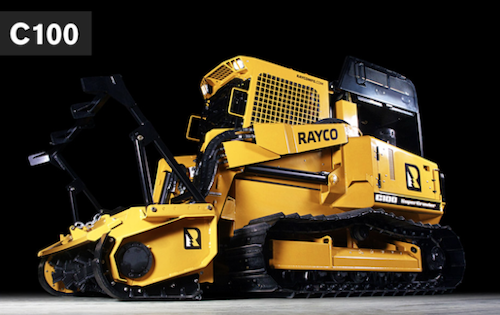 Line maintenance: When you go into the woods, you need a forestry machine you can count on. You need a loader-style mulching machine that's purpose built from the ground up to be the most productive and reliable in a mulching application. Rayco's C100 is that machine. It's equipped with a 99.2 hp Kubota engine and Rayco's exclusive Super Flow closed loop, hydraulic system, providing 39 gal/minute at 5,500 psi to the Predator mulcher head.
To extend service intervals, the C100 features an advanced forestry cooling system which is easy to maintain and will extend service intervals, even when operating in the most extreme conditions. High capacity coolers allow operation in the hottest ambient temperatures. Debris screens filter out most of the contaminants that plug radiators and are easily removed for routine cleaning.
The C100LGP model features a higher ground clearance and a heavier undercarriage. The C100LGP's larger chain and wider pads provide extra flotation and traction and a longer service life.
Features:
• Purpose Built Forestry Mower/Mulcher
• 99 hp Kubota Turbo Diesel
• Certified ROPS/FOPS/OPS Cab
• Rayco-Exclusive Forestry Door with 1.25-inch Lexan
• Rooftop Escape Hatch
• Easily Removable Debris Screens to Protect Coolers
• Heavy-Duty Steel Undercarriage
• Remote Track Tension System with Tension Monitor
• 2-Speed Ground Travel
• Rayco-Exclusive Cooling System
• Super Flow Closed Loop Hydrostatic Cutter Head Drive
• Hydraulic Rear Winch
• Predator Mulcher Head with Variable Displacement Motor
• Optional Back-Up Camera
For more information about Rayco or other products, click here to go to Utility Products' Buyers Guide.