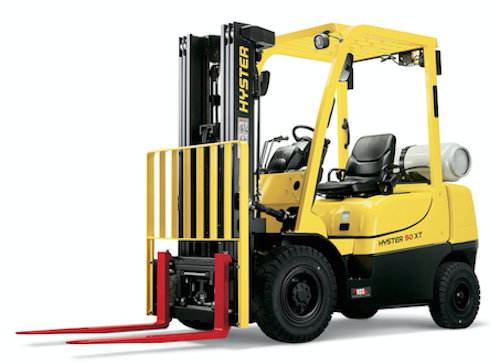 Utility vehicle: Hyster Company's lift truckoperates in a variety of applications at a lower cost of acquisition and ownership. During a press conference at MODEX, Hyster unveiled its new H50XT truck which outperforms the competition in fuel efficiency and productivity, while also offering extensive options, proven dependability, ease of serviceability and a lower total cost of ownership.

"Understanding the needs of our customers is an important pillar of our global strategy," said Michele Corini, Vice President of Counterbalanced Development for Hyster. "The new series addresses what our customers have asked us for, a competitively priced lift truck that operates in a variety of applications, but is still Hyster tough."

H50XT Lift TruckAvailable for order soon, the new XT truck series will be offered in 4,000, 5,000 and 6,000 pound models. The series incorporates key design and component elements of the premium Hyster Fortis® truck series, ensuring that the new trucks deliver unrivaled dependability – a standard feature of every Hyster® lift truck.

The new truck will be available with a PSI 2.4L dual-fuel engine featuring Hyster® Variable Power Technology™, which includes selectable performance modes that allow customers to maximize productivity or fuel economy to fit specific application requirements. It delivers power at low speeds with accurate and responsive traction and hydraulic controls, allowing operators to place loads quickly where intended.
About Hyster Company
Hyster Company is a leading world-wide lift truck designer and manufacturer. Hyster Company offers 130 lift truck models configured for gasoline, LPG, diesel and electric power, with one of the widest capacity ranges in the industry — from 2,000 to 105,000 lbs. Supported by one of the industry's largest and most experienced dealer networks, Hyster Company builds tough, durable lift trucks that deliver high productivity, low total cost of ownership, easy serviceability and advanced ergonomic features, accompanied by outstanding parts, service and training support.

Hyster Company is a division of Hyster-Yale Group, a wholly owned subsidiary of Hyster-Yale Materials Handling, Inc. (NYSE:HY). Hyster-Yale Materials Handling, Inc. and its subsidiaries, headquartered in Cleveland, Ohio, employ more than 5,300 people world-wide.

For more information about Hyster or other products, click here to go to Utility Products' Buyers Guide.