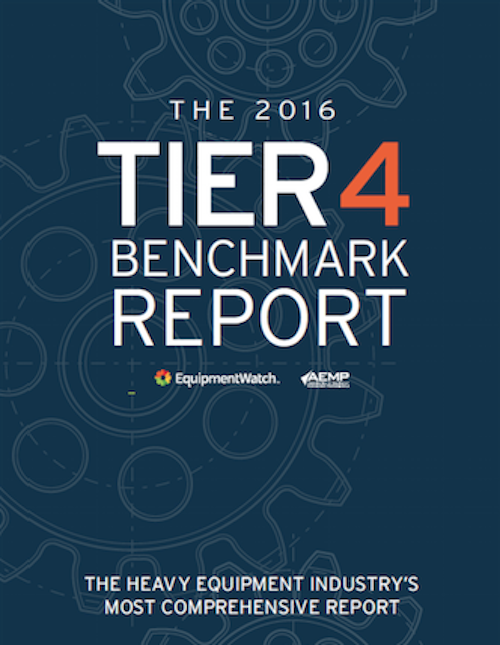 Construction equipment:EquipmentWatch, a provider of data, software and insights for the heavy equipmentindustry, has released its 2016 Tier 4 Benchmark Report. Developed in partnership with the Association of Equipment Management Professionals (AEMP), the report analyzes responses from more than 300 major equipment and rental companies to measure the true impact of the Tier 4 Final transition on the heavy equipment industry.
The report communicates the overall adoption, acquisition and practical ownership of Tier 4 assets. EquipmentWatch and AEMP have partnered again to survey the heavy equipment community to gauge how heavy equipment operators are implementing new technology to meet Tier 4 emissions standards, as well as to better understand the reality regarding the regulation's impact on the industry.
"This is our second annual report, and Tier 4 equipment trends are taking shape more clearly across the industry," says Garrett Schemmel, Vice President and Market Leader, EquipmentWatch. "We've taken a comprehensive approach, examining everything from purchasing trends and life cycle expectations to the effect on total cost of ownership. This is a must-have report for fleet managers, equipment dealers and finance experts, as well as OEMs."
"AEMP is committed to empowering the heavy equipment industry with data and intelligence that helps simplify the equipment management cycle," explained Stan Orr, CAE, President and CSO for AEMP. "This report helps create consensus on current adoption and management trends around Tier 4 equipment and its life cycle."
EquipmentWatch and AEMP have made this report available for free download at http://intel.equipmentwatch.com/2016-tier-4-benchmark-report/.
ABOUT EQUIPMENTWATCH
EquipmentWatch is the trusted source for heavy equipment data and intelligence. EquipmentWatch produces the leading database information products for the construction equipment industry and is the world leader in heavy construction research and serves more than 15,000 professional, high-volume users of construction and lift-truck data. Our online and print products are valuable tools in decisions surrounding the purchase, valuation, operation, and disposal of equipment.
About Penton
Penton is an innovative information services company that empowers 20 million business decision makers in markets that drive more than 12 trillion dollars in purchases each year. Our products inform with rich industry insights and workflow tools; engage through dynamic events, education and networking; and advance business with powerful marketing services programs. Penton is the way smart businesses buy, sell and grow.
For more information about EquipmentWatch or other products, click here to go to Utility Products' Buyers Guide.