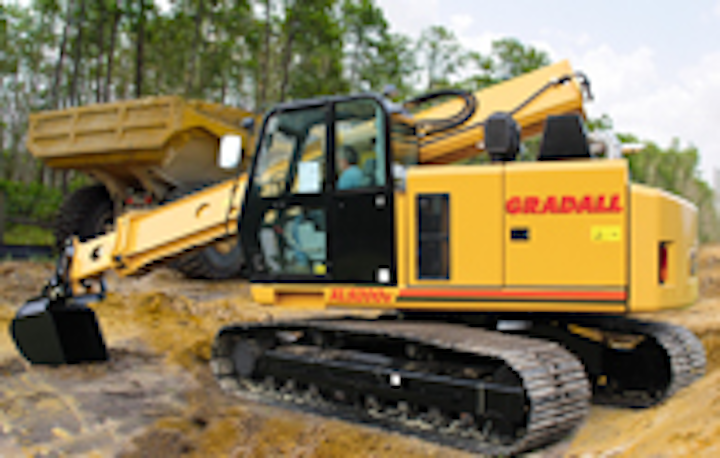 Utility vehicles: The Gradall XL 5200 V crawler excavator, weighing 54,452 lbs., is the largest model in the Gradall fleet of machines designed for high-productivity excavation, demolition and material movement as well as finished grading and sloping.

The XL 5200 V features the new Tier 4-Final compliant Volvo Penta diesel engine, which meets the highest global standards including the demanding Stage IV (EU) and Tier 4 Final (US) emission reduction requirements. In addition, fuel efficiency is improved by up to 5 percent.

Along with the new engine, Series V excavators include an upgraded high-performance, high-reliability 24-volt electrical system, creating a better power source. An operator cab safety option provides rollover protection that meets safety test requirements and is integrated within the existing cab structure, without external support.

The XL 5200 V has a Gradall telescoping tilting boom, which requires only minimal overhead clearance that allows it to work in tunnels, under bridges, on the ground floors of multi-story buildings and other places where conventional excavators with knuckle booms simply will not fit.

Another unique advantage is the ability of the entire boom to tilt 220 degrees for precise attachment positioning without losing boom power. In order to perform a tilting action, conventional excavators must add a boom-end tilting mechanism, which adds weight and sacrifices boom forces.

The XL 5200 V has excellent boom force at 24,941 lbs. (111 kN) and bucket breakout force at 25,405 lbs. (113 kN). When switching from high production digging to finishing work, the load-sensing high-pressure hydraulics system adjusts automatically to save fuel, eliminating the need for operating mode selection.

The all-weather operator cab is roomy and comfortable, with rubber mounts that limit shock and vibration when the machine is digging. The seating module can be adjusted eight different ways, while the left and right arm pods contain electronic joysticks that control the 220-degree tilt and other boom functions.

The XL 5200 V boom can telescope to 33 feet, 11 inches (10.3 m) at ground line, or dig to a depth of 25 feet, 4 inches (7.7 m). Using an in-cab switch, the operator can quickly select the Gradall, Deere or SAE joystick pattern – a feature that can shorten the learning curve for new operators. Operators also appreciate standard air conditioning, heater, acoustic lining and a removable overhead skylight and removable front window for fresh air.

Easy-to-see gauges monitor critical machine functions including engine RPM, oil pressure, battery voltage, hydraulic oil and coolant temperatures. Some other handy controls include a dig mode switch for fine grading control or maximum performance digging and a joystick lock for safe travel during transport.

A new counterweight design shortens the rear swing of the XL 5200 V allowing it to work on road demolition and grading with only minimal traffic obstruction. Attachments include, excavating, ditching, trenching, pavement removal and dredging buckets. Also available to expand the versatility of the XL 5200 V is a grading blade, boom extension, tree limb shear, live boom and fixed thumb grapple. Because it can do so many different jobs, the XL 5200 V often relieves the need to bring extra machines to a job site.

The long crawler track provides a solid work platform and creates minimal bearing pressure. Triple grauser excavator pads, with widths of 800 mm or 600 mm, assure mobility in sticky mud, sand and very rough terrain. Each track has dual-range high- torque piston motors. A three-stage planetary drive and automatic swing set wet disc parking brake provides sure travel and stopping capability.

For individual crawler speed and direction control, the operator has two electronic foot pedals with handles in the cab. An automatic two-speed control can shift the crawler into low speed for challenging travel conditions. Also, the operator can manually switch from high speed to low speed when loading the machine for transport.

Routine maintenance and adjustments are simplified. For example, track tension is easily controlled with an adjustment cylinder. A recoil spring on each crawler idler keeps rocks and debris from breaking or jamming the track rail, and sealed rollers feature lifetime lubrication. For excellent strength to withstand shocks, the carrier frame is a one-piece weldment. The rugged triangular boom has double rollers and provides excellent protection for the boom tilt motor, located at the rear of the boom.

Series V machines have almost 70 percent parts commonality, simplifying the task of maintaining inventories to complete common service functions. These machines also have longer routine service intervals, and most service locations can be reached from ground level. A global network of authorized distributors supports all Gradall excavators, supplying service advice and authorized Gradall parts.
All Gradall excavators are designed, built and supported by Gradall Industries, Inc., with processes that meet ISO 9001-2008 standards. Gradall Industries is wholly owned by the Alamo Group.

Alamo Group, Inc.: For 40 years, we've been a world leader in the design, manufacture, distribution and service of high quality equipment for right-of-way maintenance and agriculture. Our products include tractor and truck mounted mowing and other vegetation maintenance equipment, excavators, street sweepers, vacuum trucks, snow removal equipment, pothole patchers, agricultural attachments and related aftermarket parts and services. We currently produce and assemble products in 16 principal facilities worldwide. Our products are sold through Alamo Group's marketing organizations and our extensive independent worldwide dealer networks under various trademarks and trade names. These include Alamo Industrial, Tiger, Schwarze, Gradall, VacAll, Nite-Hawk, Henke Manufacturing, Schulte, Rhino, M & W, SMC, Herschel, Valu-Bilt, Bomford, Spearhead, McConnel, Twose, SMA, Forges Gorce, Faucheux, Rousseau, Rivard, and others. Alamo Group went public in 1993 and since 1995 has been listed on the New York Stock Exchange as ALG.
For more information about Gradall or other products, click here to go to Utility Products' Buyers Guide.