Construction equipment: Wheel loaders are reliable, fuel efficient
Line construction: Doosan extends its wheel loader lineup with the new DL220-5 with available high-lift option.
Feb 17th, 2016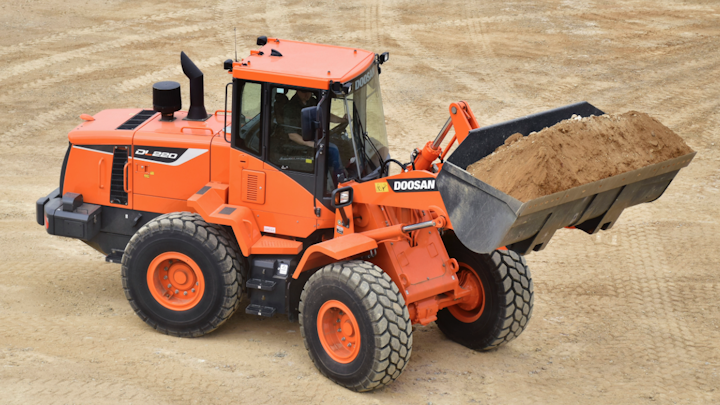 Construction equipment: For customers who need a durable, reliable, fuel efficient and compact wheel loader with a 3-cubic-yard bucket capacity, Doosan now offers the Tier 4-compliant DL220-5 wheel loader.
Replacing the DL220-3 model, the 160-horsepower DL220-5 provides the productivity and performance that operators have come to expect from Doosan wheel loaders. Doosan DL220-5 wheel loaders are driven by a powershift transmission. The fully automatic transmission — with three selectable transmission modes — utilizes a vehicle control unit (VCU), which means the engine's computer and transmission control system constantly communicate with each other to reduce fuel consumption and increase performance.
The DL220-5 wheel loader falls in the 150 to 175-horsepower size class, and is powered by a Doosan DL06 diesel engine without the need for a diesel particulate filter (DPF). The compact, maneuverable wheel loader is ideal for a variety of applications, such as commercial building, residential site development, road construction and maintenance, land improvement / water control, crop and livestock production, snow removal and scrap handling.
Like its predecessor, the DL220-5 is manufactured with a standard Z-bar lift-arm linkage, and is ideal for scooping, loading, carrying and general construction tasks. For operators requiring additional dumping capabilities, the DL220-5 is also available, for the first time in this model, with a new high-lift Z-bar configuration, extending the dump height 18 inches above the standard DL220-5. This configuration is ideal for loading material into high-sided trucks or high hoppers, building stockpiles or handling solid waste. Applications include livestock production facilities, cement plants, scrap and recycling centers, landscaping centers (loading mulch) or wastewater transfer stations.
Cab enhancements
Doosan DL220-5 wheel loaders feature cab enhancements that include a better, adjustable steering column to provide more legroom, ease of operation and more floor space. Also inside the cab, a new fuel consumption gauge informs operators of how much fuel the wheel loader is using in real time. Updates to the keypad on the dashboard make it easier for operators to push buttons, review and adjust settings, and clean and maintain the keypads.
Visibility within the cab and around the wheel loader has been improved, too. Two rear LED lamps, working more efficiently than the prior lamps, provide better rear visibility when working at night. Lastly, an adjustable sun visor allows operators to limit direct sunlight inside the wheel loader cab for improved operating conditions.
Doosan continues to offer its forward-neutral-reverse (FNR) joystick control / gear selector as standard equipment for greater operator comfort. The operator can switch between forward, neutral and reverse without removing his or her hand from the controls, simply by pressing the joystick buttons.
Routine service made easy
Ease-of-maintenance updates from the DL220-3 to the DL220-5 include additional oil sampling ports to improve preventive maintenance procedures. In addition, various fluid pressures are now viewable from the dash panel, allowing monitoring from the cab.
An adjustable auto-shutdown feature in DL220-5 wheel loaders helps operators save valuable fuel during non-working conditions. Operators can configure the idle time before auto shutdown, from 3 to 60 minutes. When enabled, the feature will shut down the wheel loader's diesel engine when the preset idle time is met.
Uptime protection features include a fuel filter separator with double filtration that is easily accessible behind metal panels that protect internal components. The high efficient engine air cleaner prevents abrasive particulate matter from entering the engine's cylinders. Thick wheel loader lift-arm plates provide strength without sacrificing visibility, and the plates, chassis and joints have been analyzed using finite element techniques to confirm the components' durability.
Limited-slip differentials
With this standard feature, the DL220-5 wheel loader has more traction when digging, grading or loading trucks. Limited-slip differentials help with these tasks and come standard on the DL220-5 wheel loader. To maneuver in tough terrain, the limited-slip differential allows the wheel with the most traction to receive the proper torque, providing superior tractive effort to ensure operators can keep working, even in soft or wet ground conditions.
Selectable work modes
DL220-5 wheel loader operators can choose between three work modes that adjust the loader's performance to the application and deliver the right balance of power and fuel economy. The operator simply pushes a button to toggle between the following work modes:
Economy (Eco): Reduces fuel consumption for low-demand applications
Normal: Balances fuel consumption for everyday digging, grading and lifting tasks
Power: Provides superior power and performance for heavy-duty conditions and truck-loading tasks
Options available
Options available for the DL220-5 wheel loader include the following:
• 110-volt plug block heater
• Emergency steering kit
• Heated seat
• Hydraulic coupler for simple attachment changes
• Hydraulic locking front and conventional rear differential
• Load isolation system (also known as ride control): isolates the movement of a loaded bucket from the machine for a smoother ride
• Rearview camera
• Rotating beacon
• Rubber fender protectors and full fender with rubber protector
Easy attachment changes
Versatility is important to wheel loader owners when they're working on a jobsite, especially when they want to change attachments quickly. The DL220-5 has an optional hydraulic quick coupler to easily change approved attachments, including buckets (general purpose, light material or multi-purpose) and pallet forks.
ABOUT DOOSAN INFRACORE CONSTRUCTION EQUIPMENT AMERICA
Doosan Infracore Construction Equipment America, headquartered in West Fargo, North Dakota, markets the Doosan brand of products that includes large excavators, wheel loaders and articulated dump trucks. With more than 160 heavy equipment dealer locations in North America, Doosan is known for an unmatched dedication to service and customer uptime, and durable, reliable products. Doosan is fast becoming a global force in heavy construction equipment. Doosan Infracore Construction Equipment America is a subsidiary of Doosan Infracore Bobcat Holdings Co., Ltd., a wholly owned subsidiary of Doosan Infracore Co., Ltd. For more information on Doosan products, visit DoosanEquipment.com.
Doosan DL220-5 wheel loader:
• Horsepower: 160 hp (119 kW)
• Operating weight:
o 27,381 lb. (standard); 12,420 kg
o 28,296 lb. (high-lift option); 12,835 kg
• Bucket capacity: 3 cu. yd.; 2.3 m3
• Dump height:
o 9 ft. 3 in. (standard); 2.8 mm
o 10 ft. 9 in. (high-lift option); 3.3 mm 
• Breakout force:
o 22,706 lbf. (standard); 10,299 kgf
o 25,180 lbf. (high-lift option); 11,421 kgf
• Three selectable work modes: Economy, Normal and Power
• Available in high-lift Z-bar configuration for additional dumping height
• Approved attachments: general purpose, light material and multi-purpose buckets; pallet fork; and hydraulic quick coupler
For more information about Doosan or other products, click here to go to Utility Products' Buyers Guide.