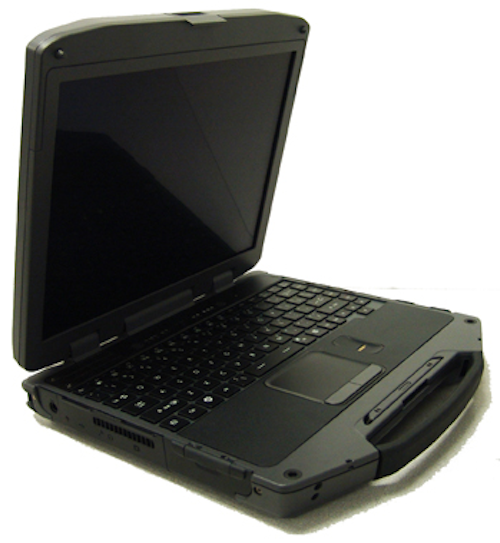 Handheld computer: GammaTech Computer Corp. is pleased to announce that its DURABOOK R8300 is the first fully rugged notebook to come with RFID dual frequency reader integration. The RFID reader adds security, reliability and the convenience of proximity and contactless identification. Exceeding or meeting the most difficult environmental specifications, the R8300 can safely be used in a multitude of applications such as those found in the military, public safety, and utility sectors.

"GammaTech prides itself on its ability to continually innovate in the rugged notebook category and improve its DURABOOK line," remarked Tom Wang, GammaTech President. "This ensures that our customers, no matter what their field, can always choose a tough, dependable, cost-effective GammaTech product featuring the most up-to-date technology. Such is the case with our new DURABOOK R8300 notebook with built-in RFID reader."

RFID Reader Technology
The RFID module combines proximity and contactless technologies into one single reader, providing the capability of reading both 125 kHz proximity cards and 13.56 MHz contactless cards. The RFID reader improves accuracy and productivity, eliminates the need for manual entry, and provides error-free identification and security throughout the workplace. The reader supports many card types including iCLASS®, and is certified by major independent software vendors such as Crossmatch and Imprivata.

Durable, Reliable and Secure
The DURABOOK R8300 notebook exceeds or meets the most difficult environmental specifications, ensuring it will operate reliably for years in the most demanding applications. These are: MILSTD 810G for shock, drop, vibration protection and the ability to withstand a wide-temperature range; IP65 for water and dust resistance; MILSTD 461F Army Ground and Air Force standard with 10 testing specifications to allow the R8300 to be confidently used in aircraft or space-system applications; and ANSI ISA Standard 12.12.01 (formerly known as UL1604 – Class 1 Division 2) for operation in hazardous locations.

The R8300 has several valuable security features, including both administrator and boot password protection; Absolute Computrace support, which allows remote management for continual tracking and securing all endpoints within a single cloud-based console; Smart Card Reader; Kensington lock; TPM 1.2; Stealth mode operation; and a Fingerprint Reader option.

Exceptional Features
The unit's powerful Intel 3rd Generation iCore LV /ULV CPU iCore i73667U mobile processor provides optimum power consumption, weight, and performance. It has a large 13.3" TFT touchscreen LCD display with sunlight readability, a lithiumIon battery providing an 8hourshift's worth of power, and a quick-release HDD-storage allowing users to easily access and swap up to 750GB HDDs or SSDs simply by turning a couple of knobs. Additional flexibility is provided through a Super Multi-I/O Optical Drive, while two DDR3 SODIMM slots provide up to 16GB of memory.

The R8300 also includes a mobile Intel QM77 Express Chipset that, among other features, provides integrated USB 3.0, Intel AMT 8.0 with enhanced manageability and security, Intel Rapid Storage Technology with RAID support for enhanced performance, power management, and data protection, Intel Smart Response Technology, and Intel AntiTheft Technology that can disable a lost or stolen PC and reactivate it without compromise to the system or data.

Staying Connected
Connection is a key ingredient to a successful mobile computer. The DURABOOK R8300 offers superior connectivity with features such as: a mini card slot for Wireless LAN and Bluetooth 4.0 class 1 combo card; integrated WWAN; a discrete GPS module; and an Intel® Dual Band Wireless 7260 module that delivers 802.11A/B/G/N and AC.

Availability
The GammaTech DURABOOK R8300 notebook is available now through authorized resellers nationwide and at www.GammaTechUSA.com. All GammaTech computers may be customized for unique customer requirements.

GammaTech Award-Winning Products
GammaTech has a well-earned reputation and a long history in producing computers for the rugged market. It has been named a winner in Government Security News' Homeland Security Awards in the Best Rugged Computers category multiple times.

About GammaTech Computer Corporation
GammaTech Computer Corporation is a leader in the design, manufacture and sales of cost-effective, high-performance mobile computing solutions throughout North America. Its award-winning line of rugged and hardened notebook and tablet computers are designed and built-to-order to increase mobile productivity for business, government, healthcare, fire, public safety and a host of other entities. GammaTech offers a complete portfolio of products that delivers power and performance needed in the most demanding work environments, resulting in increased productivity and accelerated return on investment. GammaTech is headquartered in Fremont, California, which provides the final assembly, inventory, service and technical support.

For more information about GammaTech or other products, click here to go to Utility Products' Buyers Guide.