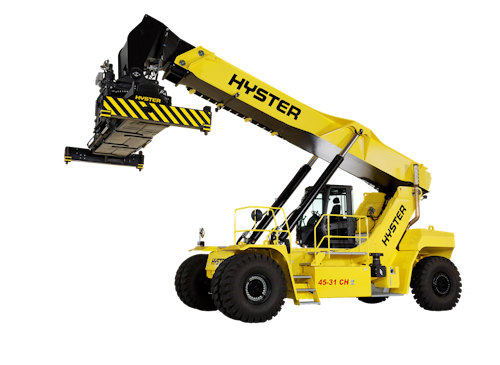 Utility vehicles: Hyster Company announces that it has won a 2015 GOOD DESIGN™ award for its Tier 4 Final RS45-46 ReachStacker. Presented by the Chicago Athenaeum Museum of Architecture and Design, GOOD DESIGN honors yearly achievements of extraordinary design excellence. The Tier 4 Final ReachStacker was selected based on its efficient engine technology and productivity enhancing design.

Engineered to be the most maneuverable in the industry, with class-leading lifting speeds and excellent stacking capabilities (can stack up to five containers high and three rows deep), the award winning ReachStacker is ideal for demanding port and terminal applications. To power through these challenging jobs, the ReachStacker comes standard with a Tier 4 Final Cummins QSL 9L engine rated at 350 hp (261 kW) and a 4-speed Spicer Off-Highway TE 32 powershift transmission. The truck features an integrated drivetrain with an emission reduction package, and is designed to help increase efficiency by delivering up to 20% lower fuel consumption over previous Tier 3 engines. Additionally, the truck is equipped with hibernate idle, which reduces idle speed when idling for extended periods of time, further conserving fuel.

To maintain optimum cooling and lower fuel consumption, the ReachStacker comes with an on-demand cooling system with a hydraulically powered fan that operates only when cooling is required. This is more efficient than direct drive fans which continually draw power during operation.

The series also includes a load sensing on-demand hydraulic system that delivers flow only when necessary. The on-demand hydraulic system's variable displacement pumps are capable of more oil displacement, even at low pump speeds. This allows the engine to run at lower speeds and extends the life of hydraulic oil and components, while consuming up to 10% less fuel than a typical fixed displacement hydraulic system, and produces less heat and noise. The ReachStacker also includes automatic throttle-up, an innovative feature that automatically increases engine throttle to match desired hydraulic speed, which keeps the engine operating in its most efficient power band, while making operation easier for the driver.

About the GOOD DESIGN Awards
The GOOD DESIGN Awards is the world's oldest and most recognized industrial design program organized annually by the Chicago Athenaeum Museum of Architecture and Design, in cooperation with the European Centre for Architecture, Art, Design and Urban Studies. Approximately 40,000 GOOD DESIGN awards have been given since the inception of the award in 1950. More information on the GOOD DESIGN awards and a list of the 2015 winners visit www.chi-athenaeum.org.

About Hyster Company
Hyster Company is a leading world-wide lift truck designer and manufacturer. Hyster Company offers 130 lift truck models configured for gasoline, LPG, diesel and electric power, with one of the widest capacity ranges in the industry — from 2,000 to 105,000 lbs. Supported by one of the industry's largest and most experienced dealer networks, Hyster Company builds tough, durable lift trucks that deliver high productivity, low total cost of ownership, easy serviceability and advanced ergonomic features, accompanied by outstanding parts, service and training support.

Hyster Company is a division of Hyster-Yale Group Inc., a wholly owned subsidiary of Hyster-Yale Materials Handling, Inc. (NYSE:HY). Hyster-Yale Materials Handling, Inc. and its subsidiaries, headquartered in Cleveland, Ohio, employ approximately 5,400 people world-wide.

For more information about Hyster or other products, click here to go to Utility Products' Buyers Guide.