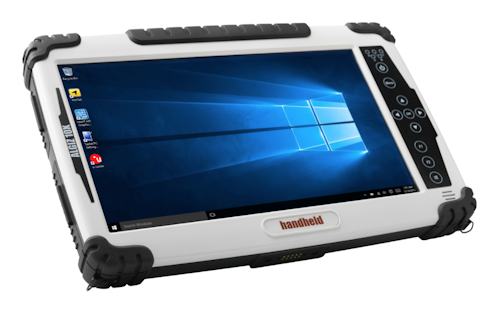 Mobile computer:Handheld Group, a manufacturer of rugged mobile computers and tablets, has announced that it is now offering a Windows 10 version of its Algiz 10X ultra-rugged tablet computer. Algiz 10X versions with Windows 7 and Windows 8 will remain available.

"Windows 10 combines the best features of Windows 7 and Windows 8, providing choice and flexibility for our customers," says Johan Hed, director of product management. "With the version of Windows 10 that we've selected, users will continue to receive the latest security and critical updates required for supporting their mission-critical systems, while choosing how often they prefer to adopt new features."

Handheld's choice to offer the Enterprise LTSB version of Windows 10 demonstrates its commitment to the needs of enterprise customers who value long-term stability. The powerful Algiz 10X features a quad-core Intel N2930 1.83 GHz processor and an expandable 128 GB solid-state drive. It has 4 gigabytes of DDR3 RAM and offers several connectivity options, including WLAN and BT, USB 2.0 and USB 3.0, VGA and RS232 ports.

The Algiz 10X is IP65-rated and meets stringent MIL-STD-810G military standards for protection against dust, water, vibrations, drops and extreme temperatures. It has a 10.1-inch touchscreen with high-brightness MaxView screen technology. This compact tablet weighs only 1.3 kilograms (2.9 pounds) and measures 32 millimeters (1.2 inches) thick.

The Algiz 10X with Windows 10 is offered for the same low price as the Windows 7 and Windows 8 versions. Owners of Version 2 units are eligible for upgrade pricing and can check product compatibility by entering their serial numbers on the Handheld website.

Orders for the Algiz 10X with Windows 10 can be placed immediately.
About Handheld
The Handheld Group is a manufacturer of rugged mobile computers, PDAs and tablets. Handheld and its partners worldwide deliver complete mobility solutions to businesses in industries such as geomatics, logistics, forestry, public transportation, utilities, construction, maintenance, mining, military and security. The Handheld Group of Sweden has local offices in Finland, the U.K., the Netherlands, Italy, Germany, Switzerland, Australia and the USA.
For more information about Handheld Group or other products, click here to go to Utility Products' Buyers Guide.