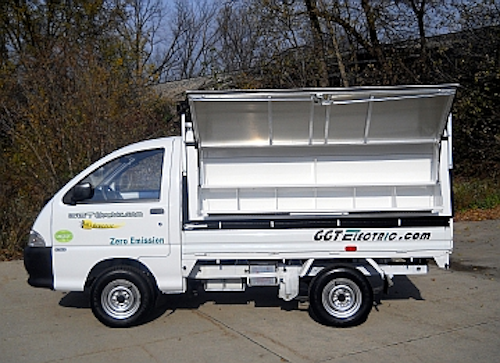 For nearly five years, GreenGo Tek Inc. (GGT), based in Milford, Mich. and A.R.E. have made tough, earth-friendly vehicles available to commercial truck owners around the world.

It's a natural pairing of complementary automotive products for an increasingly environmentally aware commercial fleet industry.

GGT specializes in delivering the best built, eco-friendly fleet vehicles that offer the latest advancements in full-electric technologies for vehicles of this class. Their electric trucks can be used to replace the Ford Ranger/Chevy S10-sized trucks, which both OEMs have discontinued. Operating quietly and cleanly, GGT vehicles cost 90 percent less to run than gas-powered vehicles.

Currently, GGT vehicles with A.R.E. custom DCUs are in use commercially for Toyota Boshoku America, shuttling parts from building to building at Toyota's huge engineering facility in Novi, Mich.

"We serve customers in all branches of the United States Military, the National Park service, colleges, universities, state parks, airports and zoos," said GGT CEO Ray Leduc. "Landscapers, plumbers, carpenters, electricians and maintenance workers refer to our eco-friendly vehicles with A.R.E. custom DCUs as 'rolling tool boxes.'"

A.R.E., a leading manufacturer of truck caps and tonneau covers, manufactures caps to fit almost any pick-up truck on the market today and offers custom Deluxe Commercial Units (DCU) for a variety of industries.

"Our sturdy aluminum DCUs are ideal for GGT's varied customer base," said Jim Blayne, national commercial sales manager, A.R.E., Commercial Fleet Division. "They offer functionality and protection for all types of cargo, and since our DCUs are constructed from aluminum, it gives operators the maximum driving range from the truck's batteries."

According to Leduc, A.R.E. caps help GGT's customer make their vehicles more functional by providing caps with ladder racks, flip-up doors with tool boxes on the side and back or side doors for easy access. A.R.E. DCUs offer secure, waterproof enclosures to protect whatever they're carrying and are made of lightweight aluminum so it won't rust.

"There is little maintenance on them, if any," Leduc said.

A.R.E. offers many such options and for GGT, A.R.E. performs all the engineering work to customize the DCUs to suit customers' specific needs.

"We told A.R.E. what our requirements were and they made it work," Leduc said. "I place my custom aluminum truck cap order and it's shipped directly to our facility where we assemble our electric vehicles. It's been a very smooth process."

GGT trucks' load capacity is 3,000 pounds, which includes the weight of the vehicle, the cap and its contents. For off-road use, payload capacity is 2,500 pounds. Because A.R.E. units are lightweight, GGT truck bodies require no suspension modifications, Leduc said.

With a typical turn-around of two to four weeks per order, A.R.E. DCUs are up-fitted at the GGT facility where any external lights or inverters are installed before the vehicles are shipped to GGT customers.

Looking to the future, GGT expects its exponential growth to continue. "These products are extremely functional and durable," Leduc said. "Once we show customers GGT vehicles with an A.R.E. cap, they try to put them in their budget and order exactly what they need for their specific application."


For more information about A.R.E. or other products, click here to go to Utility Products' Buyers Guide.