Vehicle maintenance: Mobile column lifts from Rotary Lift
Vehicle lifts: Rotary Lift to demonstrate timesaving Mach Series of mobile column lifts at APWA Show
Aug 30th, 2013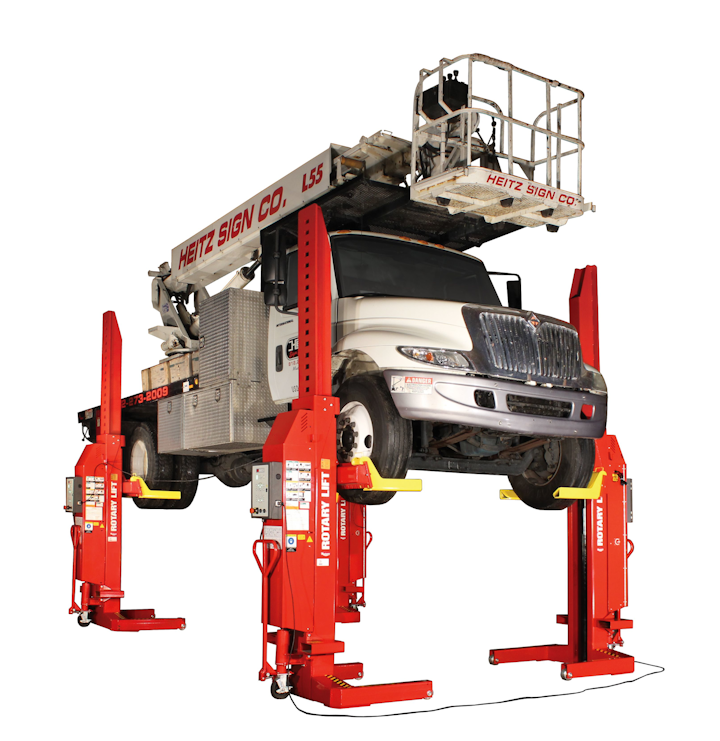 Madison, IN – Lift inspection: Learn how a set of Mach series mobile column lifts can improve productivity at your facility by visiting the Rotary Lift display at the upcoming APWA International Public Works Congress & Exposition (booth #1800). The event will be held Aug. 25-28 at McCormick Place in Chicago.

Mobile column lifts can be used throughout the shop and are easy to set up, providing space- and time-saving benefits for users. Rotary Lift's Mach series features intuitive controls, battery power for increased mobility and a horseshoe wiring system that leaves one end of the lift open at all times for quick vehicle entry and egress.

"The versatility offered by mobile column lifts makes them a perfect fit for public works fleet managers operating on tight budgets," says Kirk Dawson, Rotary Lift vice president of heavy-duty. "They can be used indoors and out, for virtually any vehicle maintenance and service task. Plus, as your fleet grows, you can add individual columns to meet demand without investing in new facilities or more expensive stationary lifts."

Rotary Lift Mach series lifts are available in sets of two, four, six or eight columns with either 13,000 lbs. capacity or 18,000 lbs. capacity each. A pair of 13,000 lb. capacity columns (MCH213) can lift a standard pickup truck and eight 18,000 lb. capacity columns (MCH818) offer 144,000 lbs. of power, enough to lift nearly anything on the road.

"When it comes to versatility, the Mach series is unmatched," says Dawson. "Since you can use the columns in sets of two, four, six or eight, you don't have to pay for capacity you don't need. The lift can be rearranged daily to meet specific needs and moved around the shop to be used where it is needed most. No stationary lift can be customized for a fleet like a set of mobile column lifts can."

To efficiently move vehicles in and out of the repair process, the 13,000 lb. capacity Mach-series mobile column lift can lift a vehicle 69 inches in just 68 seconds and the 18,000 lb. capacity version requires only 78 seconds to reach 70 inches. Each model can be fully programmed and controlled from a single column, so technicians spend more time working on the vehicle and less time setting up. Standard automatic steering systems eliminate the need to pump jacks when moving the columns and the lift¹s adjustable forks fit any wheel diameter without cumbersome reducer sleeves.
For more information about Rotary Lift or other products, click here to go to Utility Products' Buyers Guide.