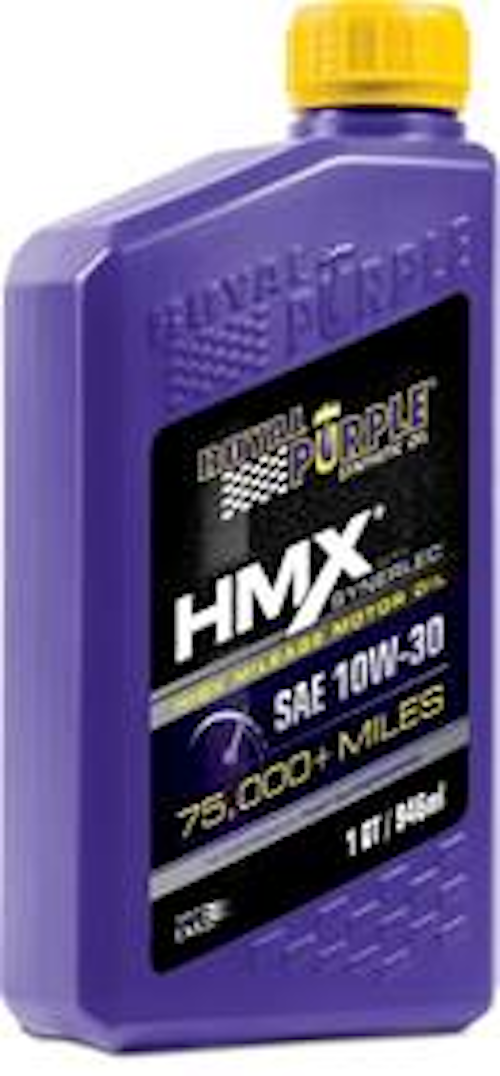 Porter, TX – Engine lubricants: Premium synthetic lubricant manufacturer Royal Purple announced the addition of Royal Purple HMX®, a high-mileage synthetic motor oil specifically designed to minimize wear and restore lost performance in engines with more than 75,000 miles.

Formulated with robust zinc/phosphorus anti-wear compounds combined with Royal Purple¹s proprietary additive technology Synerlec®, HMX is chemically enhanced to revitalize hardened seals, reducing oil consumption common in high-mileage engines. In addition, HMX is fortified with stout detergents to remove engine buildup and deposits, maintain cleanliness and promote engine longevity.

The advanced Synerlec technology in HMX provides exceptional film strength, reducing friction and metal to metal contact for peak engine performance. It also provides outstanding oxidation resistance to safely extend oil drain intervals, and an ionic attraction to metal surfaces, providing protection and minimizing wear at start-up.

"Engineering formulations is a balancing act as engine oil has several key functions to perform," said Jared Martin, Royal Purple National Retail Manager. "Higher mileage engines require a shift in this balance in certain regards as compared to new engines, such as anti-wear, detergency and preserving and restoring seal elasticity."

Recommended for gasoline passenger car and light-truck engines beyond 75,000 miles, HMX can safely extend oil drain intervals up to 15,000 miles or 12 months in unmodified, mechanically-sound engines with proper filtration. When using HMX, Royal Purple recommends first performing two short clean-up drain intervals of 3,000 miles each with HMX to thoroughly clean the engine before extending drain intervals.

Royal Purple HMX is suitable for use in engines specifying API service SJ, SL, SM and SN.

For more information about Royal Purple or other products, click here to go to Utility Products' Buyers Guide.