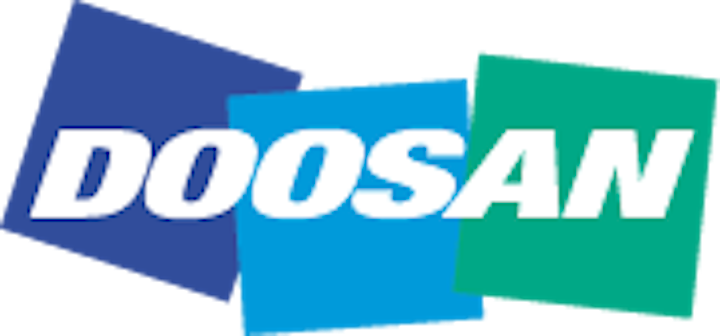 Statesville, NC – Construction equipment: Doosan Portable Power, a global manufacturer of portable power equipment, and Webasto Thermo and Comfort North America, a provider of idle reduction technologies, announce an integration of technologies that provides unmatched mobile generator performance and reliability in cold weather and extreme arctic conditions.
The Webasto engine pre-heat system will now be offered as a factory fit option available on the full line of Doosan generators.
The system design includes a Webasto Thermo 90 ST fuel operated coolant heater, 7-day programmable timer, and Arctic Fox fuel warmer. The timer controls the engine pre-heat system, allowing users to schedule remote start-up of the machine up to seven days out. Users will no longer lose jobsite productivity waiting for engine heat-up. The programmable system pre-heats the engine so the generator is ready to provide power at the precise moment it's needed, providing increased jobsite productivity, fuel savings, and reduced engine wear. The technology also helps lower emissions during machine start up, helping construction sites comply with anti-idling regulations. These system benefits are matched with the Arctic Fox fuel warmer, which prevents diesel fuel from gelling in cold temperatures.
This system will enhance the proven reliability and productivity of Doosan generators, which pair a durable design and advanced engineering to meet the demands of rugged jobsite conditions and low temperature climates.
"There are a multitude of benefits experienced in pairing the durability and proven performance of Doosan generators and the ingenuity of the Webasto pre-heat system," says Don Kanneth, Off-Highway Director, Webasto. "Not only are we helping users operate more efficiently, there are cost savings realized by reduced fuel consumption, and environmental benefits from the lowered emissions associated with the operation of a warm versus cold engine."
"Our primary focus at Doosan Portable Power is to deliver products that operate as autonomously and reliably as possible, allowing users to focus on the many needs of a jobsite," says Wyatt Franks, assistant product manager, generators, Doosan Portable Power. "The combination of Webasto heaters and Doosan generators ensures reliable performance on even the most extreme jobsites."
About Doosan Portable Power
Doosan Infracore Portable Power is a member of Doosan Infracore Construction Equipment, a global alliance of the construction equipment businesses of Doosan Infracore Co., Ltd. and its affiliates. Doosan Infracore Portable Power has more than 100 years of manufacturing expertise and application experience with a focus on providing the highest quality machines with unrivaled customer service and reliability. The product line includes generators, air compressors, light towers, and light compaction equipment. DOOSAN and the Doosan logo are trademarks of Doosan Corporation. Doosan Infracore Portable Power is headquartered in Statesville, N.C.
About Webasto
Webasto Thermo & Comfort North America is a subsidiary of Webasto Thermo & Comfort SE. Webasto Group is based in Stockdorf near Munich and has been a family-owned business ever since the company was founded in 1901. The group has more than 50 international locations, including more than 30 production plants, and is active in the segments of roof and thermo systems. Webasto is one of the top 100 automotive suppliers worldwide. The company's core competencies include development, production and sales of roof and convertible roof systems as well as heating, cooling and ventilation systems for passenger cars, commercial and special vehicles, recreational vehicles and boats.
For more information about Doosan or Webasto, or other products, click here to go to Utility Products' Buyers Guide.