Vehicle maintenance: LED mechanics work light
Work light: Magnetic mount LED mechanics work light from Larson Electronics provides versatile operation.
Nov 26th, 2013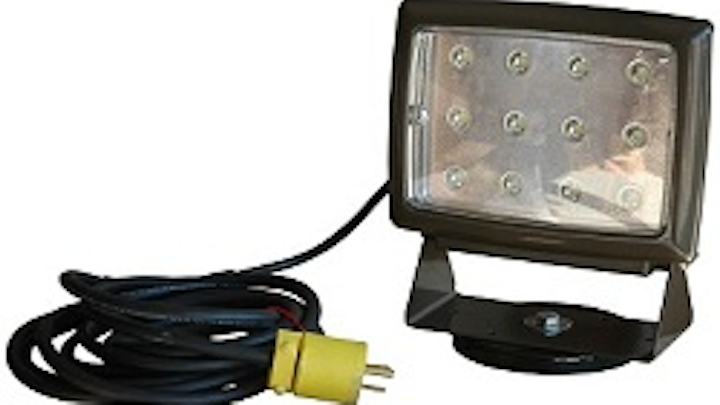 Kemp, TX -- Fleet maintenance: Industrial lighting company Larson Electronics has announced the release of a new LED work light designed to provide professional technicians and mechanics with a powerful and versatile alternative to hot running incandescent drop lights. The AML-LED-WP40-M-22C LED Mechanics' Work Light produces output comparable to a 250 watt metal halide lamp and with magnetic mounting and cool operation provides versatility and convenience typical drop lights can't match.
Leading manufacturer and distributor of industrial lighting equipment Larson Electronics has announced today the release of a powerful new LED work light designed for convenience and versatility. The AML-LED-WP40-M-22C LED mechanics' work light features heavy duty construction combined with LED lighting technology and magnetic mounting to produce a work light capable of providing more and better quality light from a safer and easier to operate fixture.
This high grade mechanics light produces 1,462 lumens of clean white light from only 40 watts of power, making it far more powerful and efficient than a standard 100 watt incandescent work light. Because this work light is equipped with cool running LEDs, it is also a safer alternative that removes the potential for accidental burns should the user accidentally contact the fixture while in operation. The LED design of this light offers further benefits in the form of an extreme 50,000 hour operational life, high resistance to damage from impacts and dropping, and better light color quality than typical incandescent or halogen bulbs. The housing on this LED work light is formed from high strength aluminum with a polycarbonate lens, resulting in a very rugged design capable of standing up to rough handling and abuse. The entire assembly is IP68 rated waterproof as well, meaning it can withstand submersion up to 3 meters for extended periods without damage. To really add value and versatility to this unit, Larson Electronics has equipped it with a 200 lbs grip magnetic mounting base and adjustable lamp bracket that allows operators to attach the fixture to almost any metal surface that will accept a magnet.
Operators can attach this light to toolboxes, hoods, underbodies, and just about anywhere a powerful source of illumination is needed, and aim it precisely where needed without having to deal with loose hanging hooks or trying to steady the light while also trying to perform repairs. This LED work light is ideal for mechanics and technicians in the automotive, aerospace and aviation industries as well as professionals in the industrial work space who need a powerful yet easy to manage source of illumination that can stand up to the rigors of demanding work conditions.
"This mechanics work light provides an even spread of bright white light for illumination for hands free operation during routine maintenance, repairs, and automotive performance modifications," said Robert Bresnahan of Larson Electronics' LarsonElectronics.com. "This light weight magnetic work light can be mounted to the hood, strut towers, or along frame rails for temporary illuminating of vehicles, trailers, and various shop projects. The AML-LED-WP40-M-22C is extremely versatile, durable, and the portability of this light makes it ideal for use around the shop, at the track, or on the road."
For more information about Larson Electronics or other products, click here to go to Utility Products' Buyers Guide.