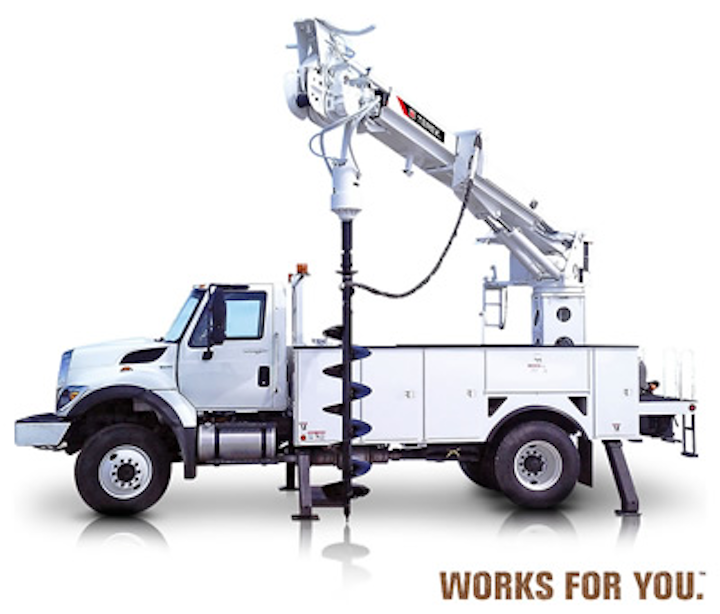 Watertown, SD -- Utility poles: The new Terex® Work Zone Capacity Calculator allows utility companies and contractors to select the right size of digger derrick to complete the majority of their day-to-day tasks -- digging holes and setting poles. The Work Zone Capacity Calculator takes into account not only the digger derrick's boom lifting capacity, but it also accounts for the digger derrick's auger digging and lifting capacity.
"To select the right digger derrick for the job," says John Pantkze, project manager, Terex Utilities, "the truck should be able to dig a hole and set the pole without the need to reposition the digger derrick. And for digger derricks to be as efficient as possible, it's imperative to understand and to match the truck's capacities to the range of work needed to complete the tasks that digger derricks are used for. The object of the Terex Work Zone Capacity standard is to match these capacities to the job, and our new calculator allows customers to quickly and easily do just that."
To calculate a digger derrick's work zone capacity, the new calculator takes into account the soil conditions and density of the material the truck will be working in, as well as the auger sizes to be used and number of flights needed. Once these specs are inputted into the calculator, it is a simple process to determine a digger derrick's work zone capacity.
"The work digger derricks do for utility companies and contractors is too valuable to have the wrong size truck on a job. These capacities need to be close in order to make sure the truck is able to lift the auger, while full of material, out of the hole. The new Terex Work Zone Capacity Calculator is designed to give customers the confidence that the digger derrick they buy will fit their overall business operation needs and is properly sized to perform a variety of jobsite tasks," says Pantzke.
Terex Corporation is a diversified global manufacturer of a broad range of equipment that is focused on delivering reliable, customer-driven solutions for many applications, including the construction, infrastructure, quarrying, mining, shipping, transportation, refining, energy, utility and manufacturing industries. Terex reports in five business segments: Aerial Work Platforms; Construction; Cranes; Material Handling & Port Solutions; and Materials Processing. Terex offers financial products and services to assist in the acquisition of equipment through Terex Financial Services.
For more information about the Terex Work Zone Calculator or other products, click here to go to Utility Products' Buyers Guide.