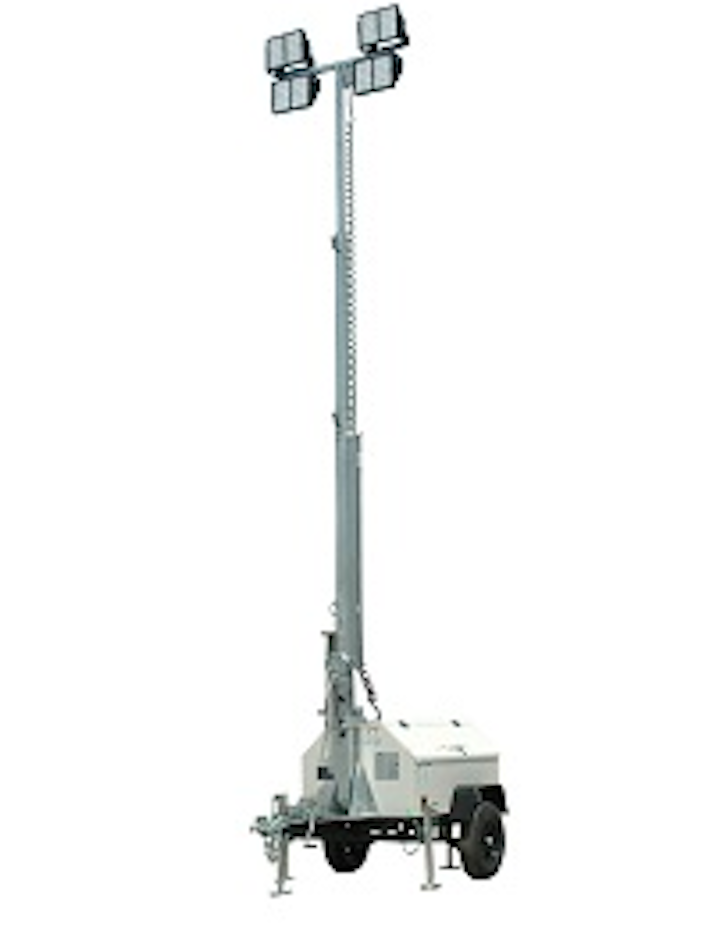 Lighting tower: The WCDE-4-4X300W-LED mobile light tower from Larson Electronics is a full size industrial grade lighting system that provides operators with the ability to illuminate very large sites for extended periods without refueling. This tower is designed to be towed behind vehicles and is a fully self contained system that provides everything needed to produce on demand large scale illumination.
The entire system is mounted on a two wheel trailer featuring a 2,000 lbs axle and 2 inch ball style coupling with dual safety chains for connecting to standard trailer hitches. Two sleeves mounted to the outer section of the mast assembly allow operators to use a forklift to load and unload the entire unit onto flatbed trailers if needed. Power for this unit is provided by a Kubota water cooled diesel engine turning a 6,000 watt, 120/240 VAC generator with four wire hookup and external ground. This engine and generator system includes key operated electric starting, water cooling, twelve volt electrical system, low oil pressure and high temperature shutoffs, and a 30 gallon fuel tank.
The lighting assembly features an extendable mast constructed from galvanized steel which can be elevated to heights up to 30 feet using two included self braking hand winches. This mast collapses and folds over for transport and is locked into place when stowed with a steel collar and latch. The lighting assembly consists of four 300 watt LED lamps producing 29,580 lumens each, for a total of 118,320 lumens of light output. These LED lights are designed for extreme conditions and are waterproof to 3 meters of submersion, constructed of heavy gauge aluminum with unbreakable polycarbonate lenses for excellent durability, and feature built in electronics which actively manage heat buildup and voltage regulation to provide maximum output and lamp longevity. This combination of LED lighting technology and diesel powered operation makes this a very efficient and powerful tower lighting system capable of illuminating 4 to 6 acres with brilliant white light for up to 60 hours on a single tank of fuel. The WCDE-4-4X300W-LED is ideal for large scale outdoor lighting applications and provides operators with a fully mobile stand alone lighting system of unparalleled durability and longevity.
For more information about Larson Electronics or other products, click here to go to Utility Products' Buyers Guide.