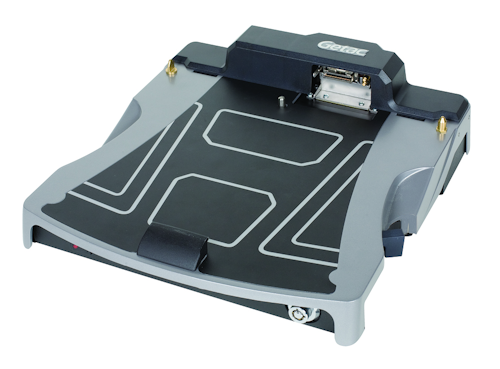 Gamber-Johnson, an ISO 9001:2008 certified manufacturer of rugged docking stations and vehicle mounting, announces the newest version of its MAG docking station line for the Getac B300 computer.
The MAG Dock for Getac B300 is constructed using a one-piece magnesium chassis, which enhances the overall strength and performance. The MAG Dock features an easy-to-activate side docking handle; ergonomically designed with a wide grip and smoother docking activation, the computer can be docked by simply pulling the handle toward you. All Gamber-Johnson docking stations come with a standard key lock for added security.
The MAG Dock for Getac B300 has passed MIL-STD-810G shock/vibration testing and has undergone extensive cycle testing on the latch and docking mechanisms. In addition, the MAG Dock for Getac B300 contains forward facing ports for low mounting capability, minimal cable strain and minimal swivel resistance, is USB 2.0 compliant, and offers a no or dual antenna pass-through options. The MAG Dock for Getac B300 has one Ethernet, four USB, two Serial, microphone, VGA, mouse/keyboard and headphone ports.
For more information about Gamber-Johnson or other products, click here to go to Utility Products' Buyers Guide.