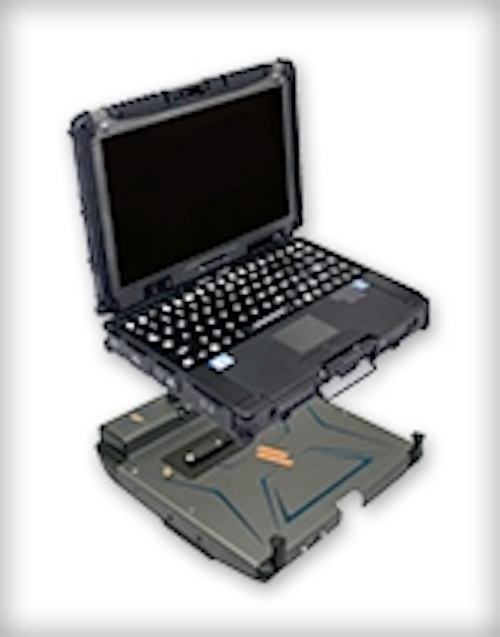 Warminster, PA – Utility supplies: Havis Inc. has introduced the new Docking Station for the Getac V100 and V200 Convertible Notebooks, and announced its availability for pre-order. Expected fall 2013, Havis' first Getac-specific dock will be compatible with the compact 10.4" V100 and the larger 12.1" V200 Convertible Notebooks, in both notebook and tablet mode.
The Docking Station for the Getac V100 and V200 will improve mobile workforce productivity by offering computer charging, security and connection to peripherals, such as printers, keyboards and barcode scanners. The dock's port replication features best-in-class circuitry and allows users to easily connect up to four USB cables.
The new product family will include the standard docking station, two models with dual or triple high-gain antenna for improved range, and a mount-only version without electronics. The docking station models will maintain constant connectivity through a guided, floating docking connector, recessed port replication and integrated strain relief that protects cable connections.
The Getac V100 and V200 Docking Station will feature a thin profile and small footprint, which can make a big difference when every inch of in-vehicle workspace matters. Havis¹ rugged locking system and front hooks provide theft deterrence, and work together to keep the Getac Notebook securely mounted through rugged driving conditions.
To ensure the notebook will stay docked and functional in almost any mobile workspace, the docking station is currently undergoing extensive safety and quality evaluations. Havis' rigorous testing includes 30-mph crash simulations with forward, rearward and side impacts, military-grade vibration testing, and extensive cycle testing on the latch handle and docking connector's mechanism.
For more information about Havis or other products, click here to go to Utility Products' Buyers Guide.