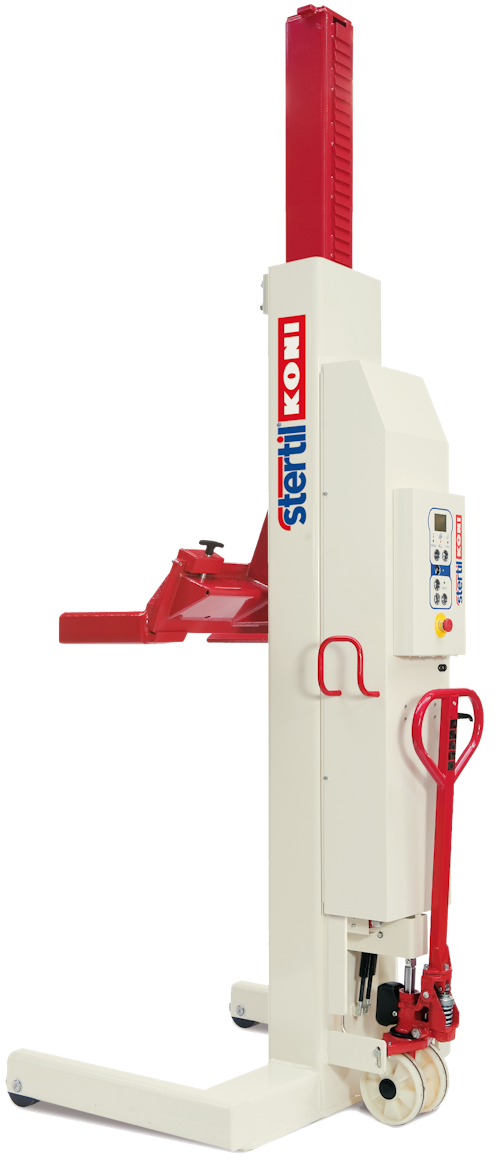 Fleet maintenance: Stertil-Koni, a provider of heavy-duty vehicle lifts, has announced the ST 1085, its latest innovation in high-performance, low-maintenance and safety-engineered mobile column vehicle lifts.

This new model, designed to deliver an optimal combination of flexibility and productivity, features a lifting capacity of 18,500 lbs. per column and is equipped with extra-long adjustable pick-up forks of 14 inches ­- well suited to safely raise all types of vehicles, including those with super single tires. In addition, the width between the lifting forks is adjustable, so that vehicles with variable wheel diameters can be lifted safely and easily. The ST 1085 also features a Multi Master System, equipped with a control box on each individual column. In that way, lifting columns can be operated individually, in pairs or a complete set with the touch of a single button. What's more, all columns are interchangeable, so they can be used at multiple locations.
In making the announcement, Stertil-Koni President, Dr. Jean DellAmore, stated: "The new ST 1085 leverages our tremendous company expertise in reliable hydraulic technology, which ensures efficient and smooth lifting with low maintenance ­- every time." The ST 1085 only takes 94 seconds to reach its maximum lifting height of 73 inches -­ making it one of the fastest mobile lifting columns in the world.
The ST 1085 is available in four control system options, including a Wireless Option, delivering maximum convenience and access to the vehicle. These lifts operate on 24 VDC, require no external power source to operate, communicate by ZigBee mesh protocol for high reliability and no cross channel interference, and are powered by standard deep cycle batteries that typically last up to two weeks prior to recharging. In that way, setup time is minimized because no interconnecting cables are required, and safety is enhanced, as the risk of operator tripping is eliminated. The ST 1085 is also available with:
• Superior Controls, permitting operation of a maximum of 28 columns in a set with a fully functioning control box on each column;
• Battery Controls, allowing operation of a maximum of 8 columns in a set without a building power supply; and
• EARTHLIFT, an increasingly popular wireless option that is the first hydraulic green mobile column lift in the industry. Its columns are made with components that are 98% recyclable and the Active Energy Retrieval System allows operators to achieve 35% more lifting cycles at maximum lifting load. EARTHLIFT also uses a closed hydraulic system that contains bio-degradable oil and the batteries are 100% recyclable.
Regardless of control system, each Stertil-Koni mobile lifting column is indeed Œmobile. Thanks to the synthetic wheels and a hydraulic pallet jack mechanism, which incorporates a patented gas spring, the columns are easy to relocate. As an option, the ST 1085 also is available with detachable transport pockets to lift and transport the mobile column lift quickly with a fork lift.
For added safety, the ST 1085 is ANS/ALI-ALCTV certified.
For more information about Stertil-Koni or other products, click here to go to Utility Products' Buyers Guide.