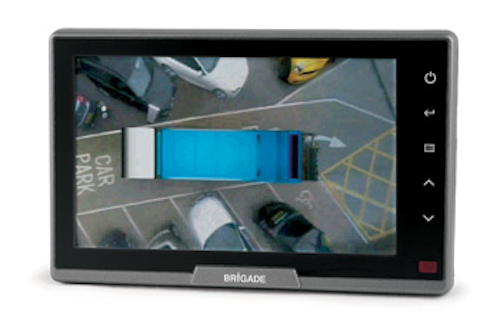 Brigade Electronics has launched its Smarteye 360 degree camera system to the North American commercial truck market. Smarteye is a camera system that eradicates blind spots and greatly reduces collisions because of a bird's eye view of the entire vehicle and its immediate surroundings.
Comprising four cameras placed around the vehicle, Smarteye technology works by "stitching" each image together to provide a complete and accurate panoramic view from above. Each camera's ultrawide angle and 187 degree lens renders a realistic, light-balanced video image displayed in real time on a high-definition cab monitor-with program option to highlight the area of greatest risk.
As part of a controlled experiment, the Smarteye system was given a test. A driver was tasked with reversing a truck with all of its windows blacked-out. With the system installed, extreme caution, and a slow, steady pace, the challenge was easily completed in complete safety.
For more information about Brigade Electronics or other products, click here to go to Utility Products' Buyers Guide.