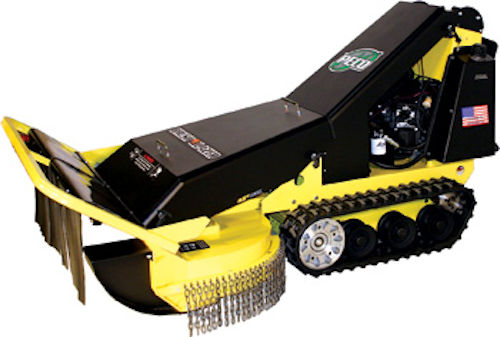 New PECO Inc. announces its TBB-3002 Brush Blazer. Featuring a 48-inch cut width, the Brush Blazer is the stand-alone solution between smaller-scale lawn units and large, commercial forestry attachments. The Brush Blazer features high power, which boosts productivity and allows the unit to cut trees up to 4 inches in diameter.
The Brush Blazer is for clearing underbrush and trees, performing trail maintenance, cleaning retention ponds or clearing rights-of-way. The unit is also useful for hazardous vegetation management and wildfire prevention. It is available with a 28-hp Briggs & Stratton Vanguard or a 27-hp Kohler EFI engine.
Filling a gap between small-scale units and large forestry equipment, the Brusher Blazer offers a mid-sized option with high productivity. Key to its quick return on investment is the ability to clear more area faster with fewer workers. In optimal cutting conditions, the Brush Blazer can clear up to six acres per day and is proven to complete twice the work with half the manpower. The unit features a five-gallon tank that allows a run time ranging from four to six hours, depending on the job's terrain and material.
For more information about PECO or other products, click here to go to Utility Products' Buyers Guide.