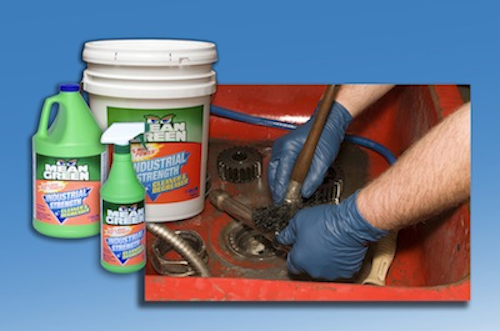 West Chester, OH—Safety products: With a unique blend of biodegradable detergents, CR Brands' Mean Green® Industrial Strength Cleaner & Degreaser quickly cuts through grease and grime, speeding maintenance, repair and rebuild projects. This proven product contains 40% more cleaning ingredients to dissolve grease and grime more quickly than other cleaners. With 30% more solvents and 20% more surfactants, even the most stubborn stains are quickly removed from various industrial surfaces -- including metal parts and housings, painted surfaces, vehicle interiors and exteriors, shop interiors including concrete flooring, even fabric, carpet, and more. Mean Green® has doubled the amount of Chelating Agent, for superior all-around performance. Mean Green® Industrial Strength Cleaner & Degreaser is ideal for a wide variety of maintenance, repair and overhaul projects including cleaning and degreasing of service parts for rebuilds, cleaning production equipment, removing spot from concrete shop floors, even cleaning carpet, upholstery and interior/office applications ­ all without environmentally harmful solvents. It is ideal for use with pressure washers.

This proprietary formula is tough on dirt but because of a slow evaporation rate emits no harmful fumes.

With the ability to tackle multiple facility cleaning applications, Mean Green® can reduce the number of cleaning products required, saving inventory costs.

For more information about CR Brand or other cleaners/degreasers, click here to go to Utility Products' Buyers Guide.