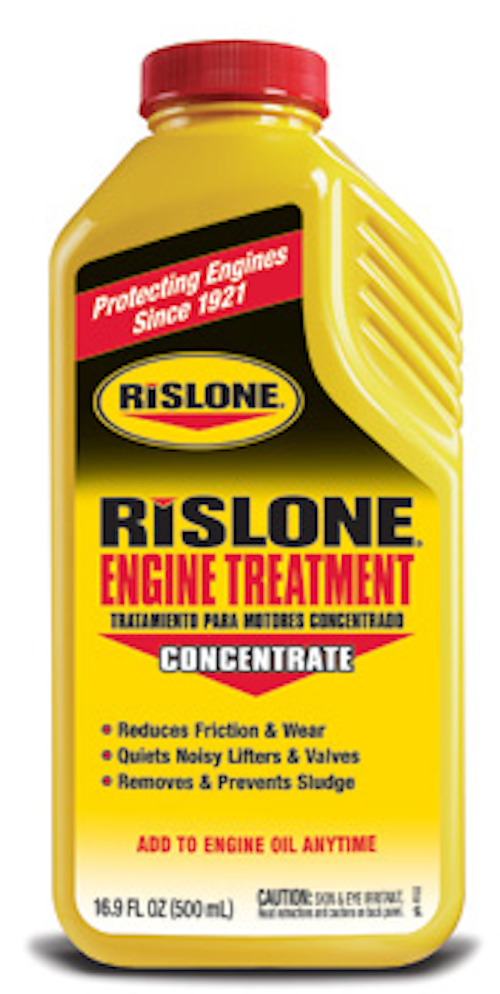 Rislone's newest concentrated product, Engine Treatment Concentrate, provides all the benefits of the original Rislone Engine Treatment in a bottle that is nearly half the size. The company found it was able to significantly reduce the amount of base oil in Rislone Engine Treatment without lessening the product's protective performance. This allows Rislone to use smaller bottles and keep prices as low as possible for its customers. The concentrated version has the same lubricants, additives and cleaners as the best-selling original.
If left untreated, sludge and other harmful deposits can plug oil passages, alter tolerances and cause rings to stick. Rislone Engine Treatment Concentrate is formulated to penetrate areas where sludge and varnish are likely to form, including valve seats, bearing surfaces, piston rings and ring grooves. The deposits are held in suspension until they are trapped in the oil filter or removed during an oil change.
One 16.9 fluid ounce bottle is enough to treat a four- to six-quart oil system. Simply empty the contents into the vehicle's oil fill spout. Noisy lifters and valves will be noticeably quieter after installation. Rislone Engine Treatment Concentrate is compatible with all four-, six- and eight-cylinder gasoline or diesel engines. For maximum protection, it should be used after every oil change.
For more information about Rislone or other products, click here to go to Utility Products' Buyers Guide.