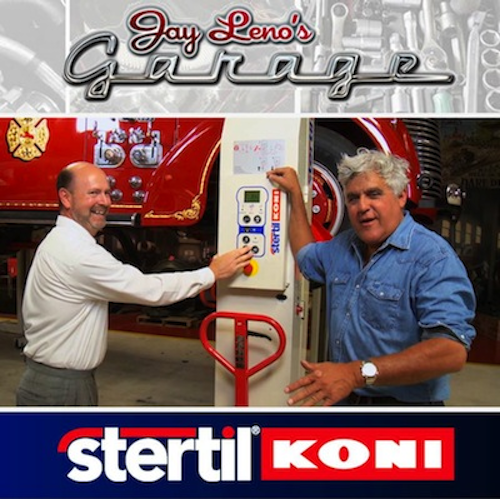 Stevensville, MD—Lift inspection: When it comes to lifting heavy duty vehicles in Jay Leno's Garage, there's one product that's always up to the task—wireless mobile column lifts from Stertil-Koni.

As Jay and his team know well, they're all about performance and safety. No external power source is required to operate, no interconnecting cables necessary and hence no risk of tripping all with minimal set up time and maximum access to the vehicle. And, a set of four -- ST 1082 Wireless Mobile Column Lifts -- like the ones featured in the latest episode of Jay Leno's Garage, can lift up to 72,000 lbs.

Here's what Jay says about Stertil-Koni mobile column lifts: "They're the second greatest invention. First of course is the wheel. But how do you lift up the wheel? This is the greatest thing I've ever seen."

The latest segment of Jay Leno's Garage featuring Jay and his guest, Carl Boyer, sales manager at Stertil-Koni, is available at: http://www.youtube.com/watch?v=Dz5Y34fUjlA


About Stertil-Koni USA Inc.
Stertil-Koni is the global market leader in heavy duty vehicle lifts -- bus lifts and truck lifts -- and is the preferred supplier to the world's leading companies in the truck and bus industries. Stertil-Koni's breadth of products meets all ranges of lifting needs and includes mobile column lifts, two-post, four-post, in-ground piston lifts, platform lifts, half-scissors and its innovative axle-engaging, in-ground, scissor lift configuration, ECOLIFT. Stertil-Koni has also recently begun installing the DIAMOND LIFT, a full rise telescopic piston lift designed to set new standards in precision heavy duty lifting. Stertil-Koni is headquartered in Stevensville, Maryland and has production facilities in Europe and the U.S.

For more information about Stertil-Koni USA or other vehicle lifts, click here to go to Utility Products' Buyers Guide.