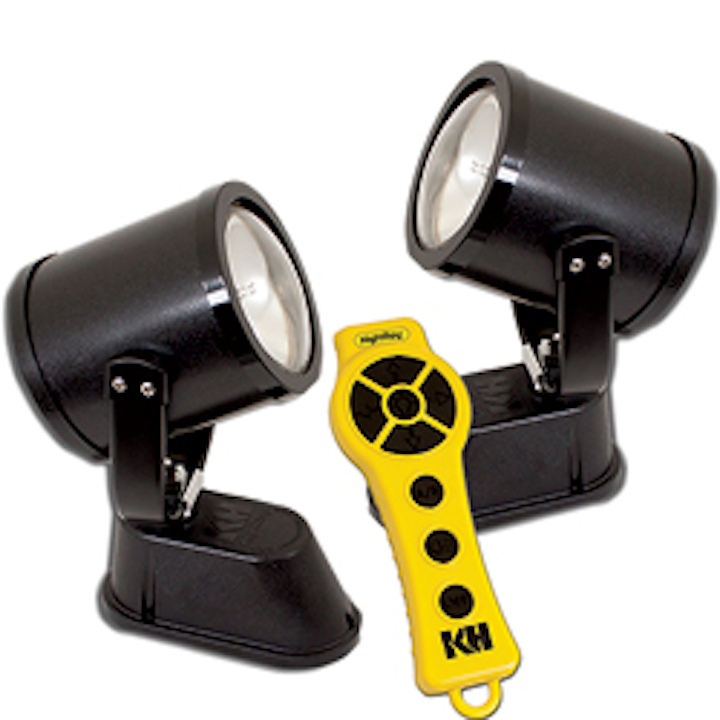 KH Industries has released the NightRay 2 Spotlight System, which includes the new wireless TwinRay Controller. The NightRay 2 and TwinRay controller are exclusive to KH Industries and cited to be the first vehicle-mounted lighting system to offer a single wireless remote controller to independently operate two spotlights. With the TwinRay controller's A/B switch, users can toggle between two NightRay Spotlights to create a wide area beam pattern or multi-directional lighting.
The NightRay Spotlight was designed specifically for the rigors of the utility industry. When it's just you and the darkness, your spotlight needs to be dependable in any situation. NightRay continuously proves itself in any environment, making KH Industries' power linemen the biggest advocates of the NightRay evolution.
Features on the NightRay 2 Lighting System include:
• New TwinRay Controller will operate one or two NightRay Spotlights;
• Easy in field programming when adding an additional NightRay Spotlight;
• Exclusive A/B switch toggles control between two lights to customize beam pattern or to create multi-directional lighting;
• TwinRay controller is ergonomically designed for easy gloved-hand operation;
• Available for dual-filament, halogen and HID NightRay models; and
• Easy plug and play installation on NightRay 2 with TwinRay hardwired joystick.
For more information about KH Industries or other products, click here to go to Utility Products' Buyers Guide.