Mobile computer: Xplore secures multi-million dollar RangerX Android table order
Handheld computer: Major U.S. telco orders approximately $4 million of Xplore's new rugged Android tablet.
Dec 27th, 2013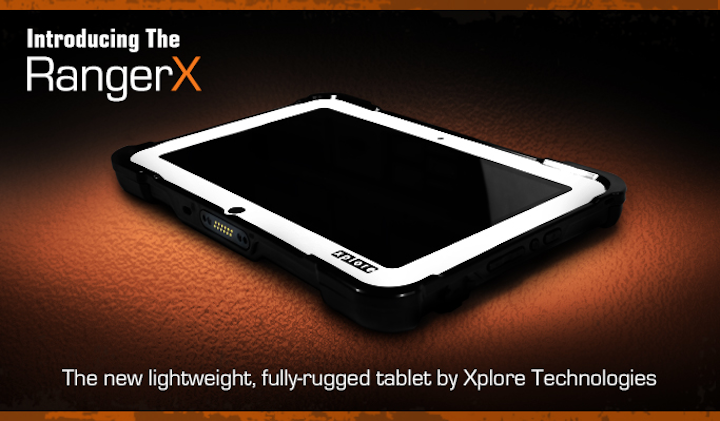 Utility equipment: Xplore Technologies Corp. (NASDAQ: XPLR), a provider of powerful, long-lasting and rugged tablets, has received its first major purchase order for its RangerX rugged Android tablet. The order of approximately $4 million from a major U.S. telecommunications provider includes tablets and accessories and is expected to ship this month.

The RangerX uniquely offers functionality that allows the telecommunications provider to consolidate the equipment used by its field service engineers into a single device, eliminating the need for troublesome and costly external dongles currently used to test HD video signals and Internet connectivity during home and business installations. The RangerX is the only tablet that delivers this capability and, as such, was chosen by the provider to drive significant cost savings and efficiencies.

"This multi-million dollar order is a great testament to how the RangerX caters to the telecommunications industry unlike any other rugged device on the market," Mark Holleran, president and chief operating officer for Xplore Technologies, said.

The rugged Android tablets will be used to facilitate the prompt delivery of work orders and work order completions and to simplify the installation process, reducing cost and improving efficiency. This solution is also expected to reduce the need for repeated service calls to the same location, a major pain point for the telco industry. Additionally, when integrated with GPS systems in service vehicles, the RangerX can provide faster response times for emergency outages by optimizing technician availability and proximity to the outage.

"The RangerX is exceptional both in its ability to provide the technology needed for our customer to meet its business objectives and to withstand the harsh and unpredictable conditions of working in the field," Philip S. Sassower, chairman and chief executive officer for Xplore Technologies, said. "The rugged features, superb viewable screen display and unique telco functionality made the company's decision to choose the RangerX over competitors very easy."

Xplore Technologies' RangerX device is a lighter weight rugged tablet that provides the largest storage capacity on the market and is certified rugged, holding both IP65 and MIL-STD 810G ratings. The Android tablet has a battery life of up to 10 hours to maximize time in the field and boost productivity, allowing for a full working shift on one charge. In addition, the tablet's vibrant outdoor viewable, multi-touch display allows for seamless transition from indoors to outdoors.
For more information about Xplore Technologies or other products, click here to go to Utility Products' Buyers Guide.