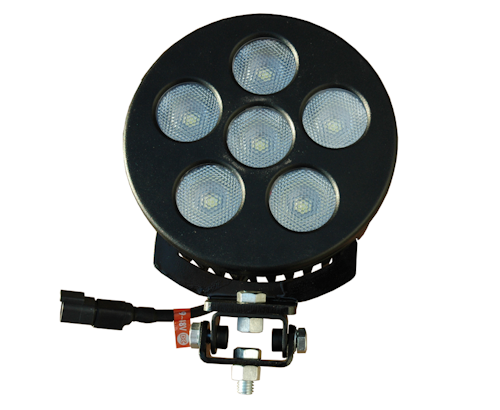 Utility equipment: Larson Electronics has announced the release of a new LED equipment light carrying MilSpec compliance and providing high output in a rugged yet compact design. The 1830L LED light is designed for use under demanding conditions and features 5,400 lumens of light output and a rugged aluminum housing rated to three meters of underwater submersion.
The 1830L LED Light from Larson Electronics is an extreme duty unit designed to provide high output and excellent durability under the most demanding operating conditions. Featuring Seoul Z-Power LEDs, a tough cast aluminum housing, and stainless steel mounting hardware, this LED equipment light withstands extremes operation, weather, and temperatures other lights can¹t while maintaining powerful and effective light output. This LED light produces 5,400 lumens of light output and can throw a beam 675 feet in length in spotlight configuration or produce a beam 270 foot long by 240 foot wide when orderd in floodlight configuration.
This light is compact in size, making it ideal for mounting to heavy equipment, armored vehicles, trucks, transports, and just about any vehicle requiring an added source of reliable high power illumination. A simple stud and trunnion mount allows easy installation anywhere a 3/8 inch hole can be drilled and the adjustable trunnion provides easy adjustment for ideal beam direction. This fixture is IP68 rated waterproof to three meters of submersion, can withstand temperatures of -40 degrees Celsius to 80 degrees Celsius, is waterproof to three meters, sealed against ingress of dust, dirt and humidity, and is tough enough to have gained compliance with MilSpec EMI certification requirements.
This light runs from any voltage ranging from 9 to 48 volts DC without the need for added transformers, making it well suited to use on vehicles and watercraft where 12 and 24 volt dc current is commonplace. The well focused and intense beam produced by this light combined with its high output and high efficiency makes it an ideal choice for military lighting and law enforcement applications as well as marine and industrial operations where power and survivability are critical requirements when considering a new lighting solution.
"This light can run on any voltage ranging from 9 to 48 volts and provides a rugged lighting solution," said Robert Bresnahan with Larson Electronics . "It is ideal for use in professional and military applications as well as marine and commercial environments."
For more information about Larson Electronics or other products, click here to go to Utility Products' Buyers Guide.