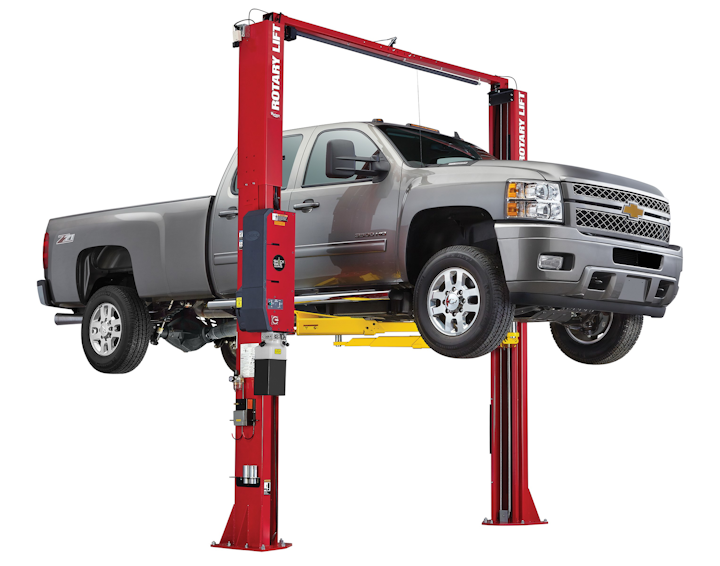 Truck maintenance: The world's fastest vehicle lift just got bigger. Rotary Lift's patent-pending Shockwave technology is now available for the first time on a 12,000 lb. capacity lift, making it possible to service pick-ups, work trucks and vans faster than ever.

Rotary Lift has expanded its productivity-enhancing Shockwave offerings beyond 10,000 lb. capacity two-post and SmartLift inground lifts to include its popular SPO12 two-post lift.

The SPO12 features a symmetric design that keeps a heavy vehicle¹s center of gravity directly between the columns for maximum stability while performing repairs. Equipped with the Shockwave package, the SPO12 can lift a vehicle weighing up to 12,000 lbs. 80 inches in just 25 seconds and lower it in 19 seconds. This is twice as fast as any other lift¹s rise and descent, which means technicians can complete more jobs each day using a Shockwave-equipped SPO12. That means more money in their pockets, and greater profitability for the shop.

"Since we introduced Shockwave-equipped lifts at AAIW in 2011, demand has been outstanding," says David Fischmer, marketing manager for Vehicle Service Group, Rotary Lift's parent company. "With the popularity of trucks in the United States, our customers have been asking for higher-capacity Shockwave-equipped lifts. The SPO12 is a great choice for servicing a wide variety of vehicles, up to and including some Class 3 trucks. A technician using a Shockwave-equipped SPO12 can get to work at the same time technicians using a standard lift are still standing around waiting for the lift to go up. It is an incredible time saver."

Shockwave's speed is made possible in part by its DC power unit. Shockwave-equipped lifts are battery operated with a built-in charger, which eliminates the need for expensive 220V wiring. The lifts can even be used during power outages, so a vehicle is never left stranded in the air.

Getting the vehicle positioned on the lift is also easier with Shockwave-equipped lifts thanks to their patent-pending Spotline laser spotting guide. Spotline projects a green laser line into the middle of the bay. To center a vehicle, the technician simply lines up the middle of the hood or dash with the laser line and drives onto the lift.

The new Shockwave-equipped SPO12 comes with adjustable frame-contact adapters for use with trucks and other body-on-frame vehicles. The SPO12 is nearly two feet taller than the standard 10,000 lb. capacity SPO10 two-post lift to provide clearance for utility bodies, roof racks and other overhead equipment.

For more information about Rotary Lift or other products, click here to go to Utility Products' Buyers Guide.