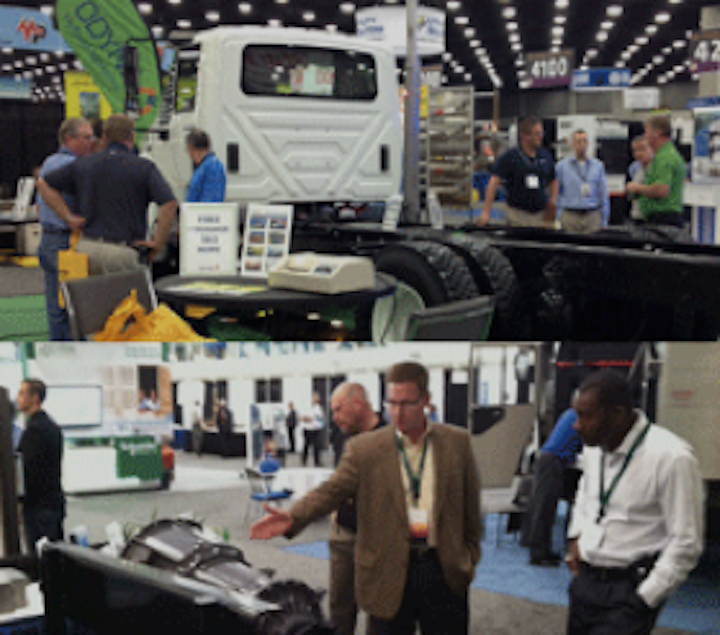 Waukesha, WI – Fleet fuel management: Waukesha based Odyne Systems, LLC, a manufacturer of hybrid systems for medium and heavy duty work trucks and winner of the NTEA 2013 Green Award, displayed its advanced hybrid propulsion system at both the ICUEE 2013 show in Louisville, Kentucky (October 1-3) and the Plug-in Conference (September 30 – October 3) in San Diego.
Of interest to show attendees was news that Odyne was recently selected to participate in a $45.4 million U.S. Department of Energy (DOE) award to develop and deploy over 120 plug-in hybrid systems for trucks throughout North America.
The plug-in hybrid system displayed at ICUEE, featured on an International chassis, and at Plug-In, on a Ford F750 chassis, is designed to interface with a wide variety of truck mounted equipment, saving fuel, reducing emissions and providing quieter operation at the work site. Odyne's plug-in hybrid truck system reduces fuel consumption by up to 50%, depending on application. It also increases power while driving by using a rugged Remy electric motor in parallel with the existing drive train to provide launch assist and regenerative braking. At the worksite, the Odyne hybrid plug-in battery system, featuring Johnson Control's lithium-ion battery packs, provides all day hybrid power on the job.
For more information about Odyne or other products, click here to go to Utility Products' Buyers Guide.