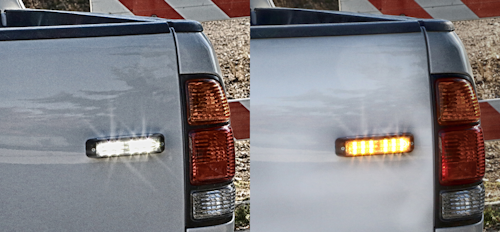 Boise, Idaho – Utility vehicles: ECCO introduces its dual color directional LED. The ED3766 offers the flexibility of two different color outputs within a single unit, comprised of 12 high intensity LEDs, six of each color. SAE Class I light output, synchronization capability and the choice of 11 flash patterns allow the creation of an attention-getting multi-color warning system with half the number of lights typically required. Each model can be programmed to flash either color option individually or alternate colors.
The ED3766 is constructed of durable aluminum and a polycarbonate lens with encapsulated electronics, and is backed by a three-year warranty. Available colors are: Amber/Blue, Amber/Clear, Amber/Green, Amber/Red and Red/Blue.
For additional product details or information about a local distributor, please contact ECCO Customer Service at 800.635.5900 or visit
For more information about ECCO or other products, click here to go to Utility Products' Buyers Guide.