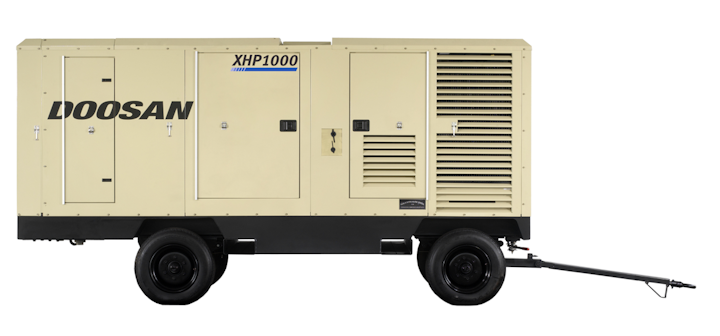 Statesville, NC – Utility equipment: Doosan Portable Power has introduced the XHP1000 portable air compressor meeting Tier 4i emission regulations. The XHP1000 has a free air delivery of 1,000 cfm and comes standard with dual pressure regulation, allowing it to supply compressed air at operating pressures of 365 and 250 psi.
Dual pressure regulation expands the scope of applications for the XHP1000 compressor, which include powering a wide range of drilling and boring machines for quarrying, mining, site investigation, geothermal, mineral exploration, water well construction and shallow oil and gas projects, as well as truck-mounted applications for quarry and water well drilling. The XHP1000 compressor can also be used for other specialist applications such as abrasive blasting and spray painting.
Compliance with Tier 4i engine emission regulations has given Doosan the opportunity to provide customers with a completely new design offering a much higher return on investment. At 16.9 feet long, 6.9 feet wide and 8.3 feet tall, the XHP1000 is 18 percent smaller than its predecessor Tier 3 model ‹ meeting customer preference for compact size and easy serviceability while minimizing transport costs. The greatly reduced size also offers advantages for truck-mounted configurations.
New standard features on the XHP1000 contribute to unparalleled service access, as well as increased reliability and durability. The XHP1000 includes single-row core heat exchangers, which creates ease of cleaning; a cool box (blower fan) to reduce component temperatures; a fuel cooler, which prevents fuel heating at low reservoir levels, thereby increasing fuel efficiency and power conservation; central drains; a galvanneal sheet metal enclosure for optimal corrosion protection; and a new enclosure design that minimizes rain entry.
Several additional features, including a sealed environmental base offering 110 percent containment and forklift slots, have been incorporated as standard.
The XHP1000 compressor has a hot ambient capability of 120 F (49 C), with a Low-Ambient Option providing start and operation to -18.4 F (-28 C) with start aids, and to 14 F (-10 C) unaided.
The new XHP1000 is powered by the Cat C-13 ACERT diesel engine using cooled EGR with the Cat Clean Emissions Module (CEM) system to meet Tier 4i regulations. The Cat C-13 engine provides 475 hp (354 kW) at 1,800 rpm for improved fuel economy and lower operating costs. The new compressor has two 90-gallon fuel tanks on board, providing enough fuel for the machine to run at full load for eight hours.
The XHP1000 compressor has a completely new control system with a full color digital display and LED backlit gauges, providing full machine status, a fault code history and an integrated e-reader library pre-loaded with a full set of manuals for the machine. In addition to having the manuals available in electronic form via the display, an optional WiFi interface allows for live streaming of data to operator or service technician laptops, tablets or smartphones.
Doosan Portable Power offers a full line of high pressure air compressors delivering a range of 750 ­ 1,500 cfm to meet any application requirement. For more information about Doosan Portable Power, and to view the full line of air compressors, please visit
For more information about Doosan Portable Power or other products, click here to go to Utility Products' Buyers Guide.