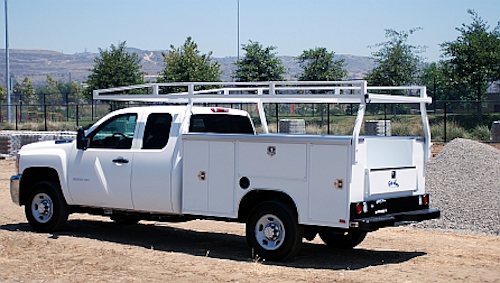 MILWAUKEE, WIS – Fleet management: For more than 40 years, Harbor Truck Bodies, headquartered in Brea, Calif. has offered high quality, innovative service-body solutions to fleet managers and independent truck owners across the Pacific Northwest. With a 40,000-square-foot on-site manufacturing facility, Harbor's primary business is the manufacture of service bodies for an array of industries, including utility, construction, plumbing, landscaping and animal control, continually delivering to customers solutions of its own design.

Harbor also has long taken pride in developing products for contractors that have helped shape their industries, said Harbor's National Sales Manager Warren Mason. Innovations such as gas shocks, stainless steel lids and Teflon(r) glide cargo bed enclosures all originated at Harbor.
"These are all products that were Harbor first," Mason said. "They have become what we like to consider our donations to the industry and now they're industry standards."

One of Harbor's latest offerings is likely to fall into that same category of innovation. In a move designed to help its fleet and commercial customers streamline their operations and boost efficiency, Harbor has partnered with Apex OEM, Inc. and STRATTEC(r) Security Corporation to provide BOLT(r) one-key lock technology on its service bodies, enhancing the innovations Harbor is known for.

"One of the things we pride ourselves on is our quality," Mason said. "That in itself helped us improve the products we put into the market."

A typical problem fleet managers often face is drivers losing or breaking keys, resulting in unnecessary downtime, lost man hours and security issues. But with BOLT technology any number of locks in a series can be coded to a single key. This allows drivers to use a single ignition key to not only lock their vehicle, but their truck cap doors, toolboxes, trailer hitch lock and any other equipment professionals use on a daily basis.

"Harbor learned of the potential to incorporate BOLT locks into its services bodies through Apex OEM, which designs, manufactures and distributes latches and handles with code-able BOLT locks. "When it was presented to us, we were excited about it right away," Mason said. Mason said he had seen BOLT technology on a competitor product but not in the T-handle application Harbor would offer its customers.

When the project launched, Harbor worked with Apex OEM on integrating the BOLT locks into its service bodies. After only 90 days, Harbor was handling the conversion on its own, having redesigned the door linings to accommodate the BOLT locks. "It's not a complex process," Mason said.

Coding the key using BOLT technology is effortless as well. When the ignition key is inserted into the lock cylinder spring-loaded plate tumblers are activated that move up and down until they are matched exactly to that key. The first time the key is rotated, the cylinder is uniquely coded to only that key. When the key is removed, the cylinder moves into the locked position. When the key is turned again, it will rotate to the unlocked position. And because the locks are OEM, BOLT locks offer higher quality, security, durability and corrosion resistance.

According to Mason, the main benefit of the code-able BOLT lock is that it enables customers to carry fewer keys, which is especially convenient for customers managing large fleets. And word that Harbor is offering BOLT locks is spreading organically.

"We now have fleets requesting the BOLT locks as standard products," Mason said. "We've sold a lot of fleets with them in a lot of different locations."

Currently, Harbor incorporates BOLT locks into roughly 20 to 30 percent of its service body sales and has plans to continue offering BOLT locks indefinitely both as an upgrade and as an aftermarket service.

And, true to its innovative heritage, Harbor is already working on its latest innovation - a new line of interior shelving products to help customers keep organized.

"It's the newest complement to our business," Mason said.
About STRATTEC
STRATTEC Security Corporation is the world's largest manufacturer of automotive locks, keys and related access control products, and is the primary lock supplier to Ford, GM and Chrysler. STRATTEC's history in the automotive business spans 100 years.
For more information about Bolt or other products, click here to go to Utility Products' Buyers Guide.