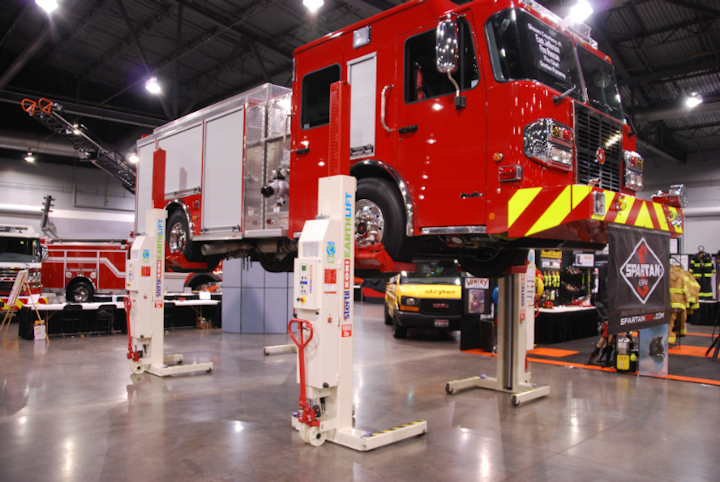 Stevensville, MD – Vehicle lifts: Stertil-Koni, a provider of heavy duty vehicle lifts -- notably bus lifts, truck lifts and U.S. Military vehicle lifts -- has introduced a new generation of its best-selling, green hydraulic mobile column lift, EARTHLIFT, now with a lifting capacity of 18,500 lbs. per column.

EARTHLIFT has been recognized as the industry's first hydraulic green mobile column lift and is designed with both performance and the environment in mind. Its columns are made with components that are 98% recyclable and the Active Energy Retrieval System (AERS) allows operators to achieve 35% more lifting cycles at maximum lifting load. Noted Stertil-Koni president, Dr. Jean DellAmore, "This means you can average up to 45 or 50 lifting cycles on a standard-sized transit bus without recharging. What's more, the on-screen display highlights the AERS system, enabling the operator to see savings in real-time." EARTHLIFT uses a close hydraulic system that contains bio-degradable oil and the batteries are 100% recyclable.
As standard, EARTHLIFT is equipped with extra-long adjustable pick-up forks of 14 inches ­ well suited to safely raise all types of vehicles, including those with super single tires. In addition, the width between the lifting forks is adjustable, so that vehicles with variable wheel diameters can be lifted safely and easily. EARTHLIFT, which is a part of the Stertil-Koni ST 1085 Mobile Column Lift series, also features a Multi Master System, equipped with a control box on each individual column. In that way, lifting columns can be operated individually, in pairs or a complete set with the touch of a single button. What's more, all columns are interchangeable, so they can be used at multiple locations.
EARTHLIFT utilizes reliable hydraulic technology, which ensures efficient and smooth lifting with low maintenance ­ every time. It takes only 94 seconds to reach its maximum lifting height of 73 inches ­ making it one of the fastest mobile lifting columns in the world.
Concluded Dr. DellAmore, "The EARTHLIFT is indeed mobile. Thanks to the synthetic wheels and a hydraulic pallet jack mechanism, which incorporates a patented gas spring, the columns are easy to relocate. Plus, for added safety, the EARTHLIFT is ANSI/ALI-ALCTV 2011 certified."
For more information about Stertil-Koni or other products, click here to go to Utility Products' Buyers Guide.