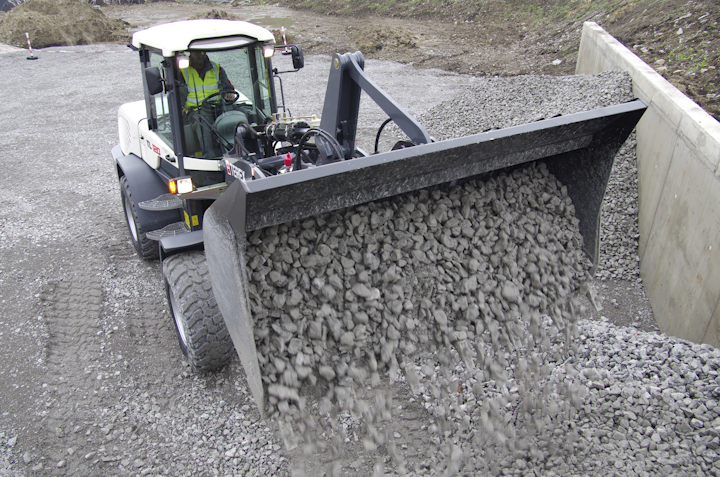 Southaven, Miss.—Commercial vehicles: The latest Terex® TL120 compact wheel loader comes with far more than just a more powerful Tier 4 interim 4-cylinder turbo diesel engine with intercooler; it has a new Terex Smart Control operating system, a quieter cab offering a better view to the ground for the operator and a new cooling system.
Boasting a powerful 101 hp, the cleaner Tier 4i Deutz engine provides the 16,653-lb operating weight TL120 with approximately 16 percent more power and 90 percent lower exhaust emissions from its predecessor.
Further efficiency gains come from the new operating concept which makes it much easier for the operator to configure the machine precisely to an application. Similar to menu guides on smart phones, operating the Terex Smart Control is very intuitive. Within the cab a new dashboard display provides a better at-a-glance of machine operation information, while the multi-function joystick comes with an electro-proportional control circuit and a slow/fast key for precise handling. The keypad has extra-large keys for easy operation and all the fuses and relays are now mounted inside the cab for additional protection.
Noise levels in the two-door cab have been cut from an already creditable 76dB(A) to a quiet 71dB(A). The lock switch for the Quick-Attach system is mounted by the steering column and the Tier 4i TL120 provides the operator with an excellent view of the attachment coupling process.
A new Tier 4i engine cooling system uses a hydraulically operated and temperature-controlled fan which starts automatically when required to help reduce fuel consumption. Using parasitic reduction, the hydraulically driven fan can be adjusted down to compensate for cool climates. A reverse function is available for machines working in dusty environments to push debris from the radiator in turn reducing service and associated downtime. The combination of the new cooling package and the revised rear hood cuts exterior noise levels from 102dB(A) to 99dB(A) — effectively reducing noise pollution and making the Tier 4i TL120 ideal for use in urban areas or sites with strict decibel-level requirements.
Other changes include a three-part counterweight which provides easier service access to the engine, the battery isolator is now adjacent to the cab, and beneath the redesigned engine hood are new jump start terminals. A revised steering system reduces the effort needed to turn the wheel while retaining its 15-ft, 4-in turning radius.
Other features carried over from the previous model are the 1.57 yd3 to 2.35 yd3 bucket capacity, parallel kinematics, self-locking differentials and an oscillating rear axle.
Terex Corporation is a diversified global manufacturer of a broad range of equipment that is focused on delivering reliable, customer-driven solutions for many applications, including the construction, infrastructure, quarrying, mining, shipping, transportation, refining, energy, utility and manufacturing industries. Terex reports in five business segments: Aerial Work Platforms; Construction; Cranes; Material Handling & Port Solutions; and Materials Processing. Terex offers financial products and services to assist in the acquisition of equipment through Terex Financial Services.
For more information about Terex or other products, click here to go to Utility Products' Buyers Guide.