Truck accessory: Tailgate locks for Chevy Silverado and GMC Sierra Series
Utility trucks: Pop & Lock introduces tailgate lock featuring BOLT codeable technology
Aug 2nd, 2013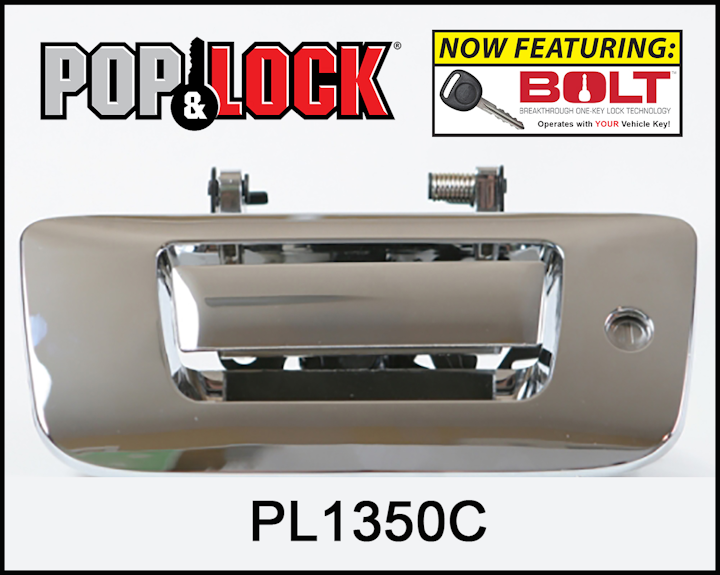 Green Bay, WI -- Safety products: Pop & Lock LLC, a provider of tailgate security products, announced the release of its newest tailgate locks for the Chevy Silverado and GMC Sierra Series (1500, 2500, and 3500). This new product is a full handle replacement with a chrome finish.
Designed to fit the current platform for the Chevy Silverado (2007 - 2013) and the GMC Sierra (2008 - 2013), this replacement component will provide a secure locking option to the factory tailgate. The chrome full handle replacement (PL1350C) is designed with BOLT® codeable lock technology, which allows the tailgate to be coded to the factory ignition key.
"We are very excited to partner with BOLT on this new product and look forward to expanding our product line featuring their codeable lock technology", said Jeff Pierquet, Vice President of Sales and Marketing for VSI, LLC, the parent company of Pop & Lock.
Pop & Lock was purchased in 2011 by VSI, LLC and relocated to Green Bay, WI. VSI is the largest producer of automotive grade locksets for the North American Heavy Truck Market.
For more information about Pop & Lock or other products, click here to go to Utility Products' Buyers Guide.