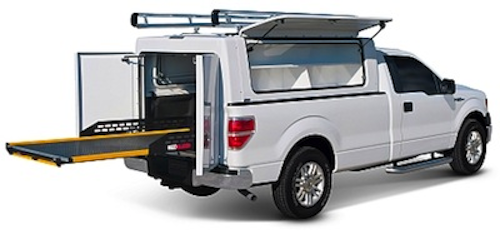 Massillon, OH — Utility trucks: A.R.E. Site Commander truck cap is now available for 2009-2013 Ford F-150 Long Bed trucks. A.R.E. designed the Site Commander commercial cap for professionals who require functionality, organization and a high-quality appearance in their truck fleets. Made from fiberglass construction to deliver a lightweight yet durable truck cap, the Site Commander provides increased storage to fleets and features a reinforced roof capable of accommodating most brands of commercial ladder racks.

The Site Commander's wide-opening rear doors are designed to improve efficiency, allowing for easy loading and unloading of full-size plywood and drywall. Plus, the addition of a BEDSLIDE sliding cargo tray allows for quick access to the entire truck bed.

Manufactured for quality and visual appeal, the Site Commander features a cored roof and doors for increased strength and stiffness. The front and rear sections of the truck cap are model specific to provide a more custom look.

"The Site Commander is a key addition to our full line of truck caps and organizational products that answer customers' needs for well-designed, economical solutions for their work trucks," said Jim Blayne, Commercial/Fleet Division sales manager, A.R.E.

A.R.E. paints the Site Commander to match a truck's OEM color code using a standard DuPont(r) base coat/clear coat paint for a high-quality appearance. It comes with A.R.E.'s three-year warranty on materials and workmanship. For more information on A.R.E.'s complete line of commercial truck caps, visit www.4are.com/fleet or call 1.800.649.4ARE.

A.R.E. began manufacturing aluminum frame truck caps in 1969 and has become a leading manufacturer of fiberglass truck caps and hard tonneau covers. At its ISO-9001:2008-certified manufacturing facilities, A.R.E.'s more than 700 employees create the products that are sold through a network of more than 650 independent authorized dealers.

For more information about A.R.E. or other truck caps, click here to go to Utility Products' Buyers Guide.