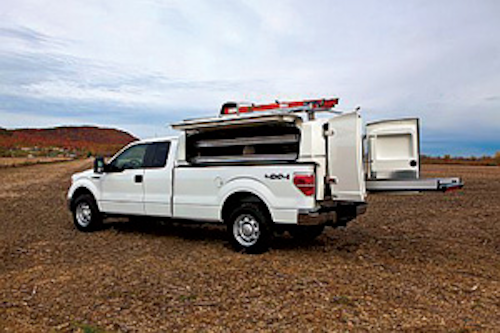 Truck cap and tonneau cover manufacturer A.R.E. is now offering the new SpaceKap Compak slip-in utility body as part of its commercial fleet product line.

The SpaceKap Compak, manufactured by Canadian-based Fibrobec Inc., is a cab-high, insert-type commercial unit with a low-profile roof line that allows for safe access to parking decks and other low clearance areas—making it a very good height design for urban areas and municipalities. The Compak is available for 6-foot and 8-foot truck beds and comes standard with a 40/60 rear door for easy access. Additional features include a light-emitting diode (LED) interior lighting package, stainless steel hinges, automotive grade door retainers and aluminum diamond plate panels to protect the rear doors from shifting cargo.

Designed to increase efficiency, the SpaceKap Compak has practically unlimited interior customization options and a tie-down system that allows users to quickly install or remove the cap in minutes, it's reported. In addition, its low-profile design provides less wind resistance, which translates into savings at the gas pump.

A.R.E.