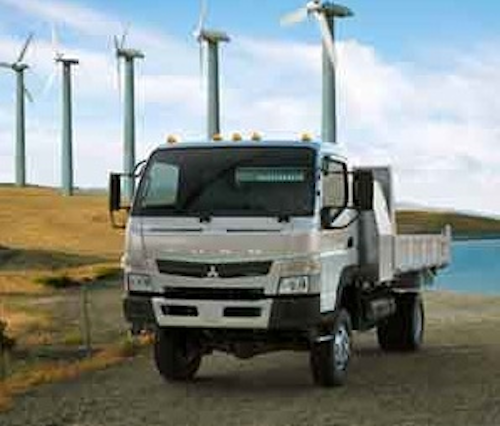 Logan Township, N.J.—Mitsubishi Fuso Truck of America Inc. has introduced its new 2012 model FG4X4. This truck is a new design, with an advanced-technology powertrain, lightweight but high-strength frame, spacious and comfortable cab, and instrument panel with comprehensive digital display.

According to Todd Bloom, president and CEO of Mitsubishi Fuso Truck of America, Inc. (MFTA), this truck has been designed to change the game in the medium duty truck business. "The new 4P10 engine, DUONIC transmission and BlueTec emissions treatment system," notes Bloom, "combine to boost the new 2012 FG4X4's horsepower by nearly 4 percent, compared to the previous FG model. At the same time, the lightweight frame and weight reduction strategies have allowed an upgrade from the 5-speed manual transmission used previously to the new DUONIC 6-speed dual-clutch transmission, while actually reducing curb weight."

The combination of the transfer case, front locking hubs and standard DUONIC transmission give the Canter FG4X4 the on-road economy of 2-wheel drive plus the versatility of 4-wheel drive when the front hubs are manually locked.
With this drivetrain, the new 4P10 (3.0L) dual-overhead-cam, dual-turbocharged, intercooled 4-cylinder diesel engine generates 161 HP and 295 lb.-ft. of torque.