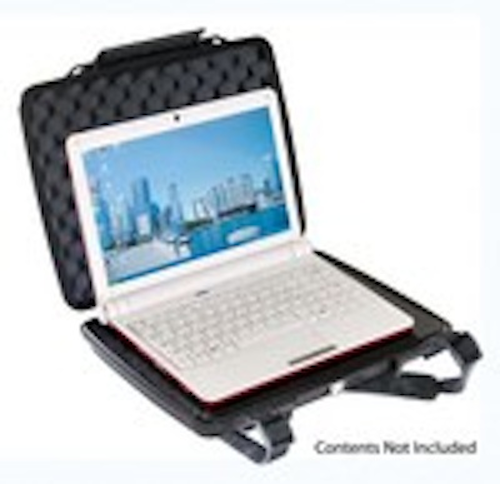 Torrance, Calif.—As the popularity of netbook and tablet devices continues to grow in the mobile computing market, they are projected to account for roughly 35 percent of the global market by 2014. To offer protection for these devices, Pelican Products Inc., has introduced the Pelican 1075 HardBack.

Designed as watertight/ crush-resistant armor for tablet style computers and Netbooks, the case was developed in a partnership between Pelican and BMW Designworks (a division BMW). "We are pleased to introduce the Pelican 1075 as a 24/7 lifestyle product that combines a compelling industrial/consumer design with Pelican engineering and material innovation," said Dinis Jablonski, director of poduct management. "The Pelican 1075 focuses on latest trends in technology, iPad2, tablets and netbooks to aid in providing protective solutions to our wide customer base."

Fitting in most soft bags, the Pelican 1075 will protect just about any sensitive electronic device up to 10" (including brands such as Apple, Dell and Sony) from the rigors of travel; the case sports a high-impact, heat and chemically resistant composite shell that will stand up to some of the harshest.

As additional protection, the case features a shock-absorbing plush foam liner (with impact-protection cell cushions) and a strong, easy-snap, polymer latch to ensure that the computer stays secure and scratch free. The case's tongue-and-groove lid construction and polymer O-ring creates a watertight seal and its built-in, automatic pressure equalization valve keeps moisture out and makes it easier to open the case at any altitude.