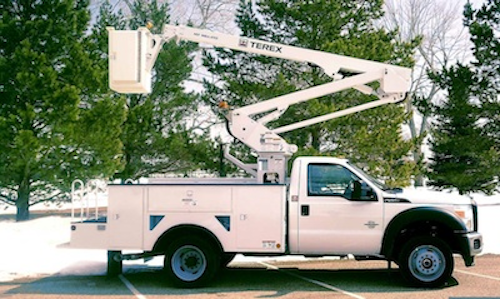 Watertown, S.D.—Terex Utilities expands its equipment lineup with the addition of the Hi-Ranger NT35 and NT38 non-insulated, telescopic articulating aerial devices. These non-overcenter Hi-Ranger aerial devices are designed for the needs of the telecommunications and CATV markets and provide fully proportional, electric-over-hydraulic platform controls that allow for smooth multi-functional operation. Both the NT35 and the NT38 are available in end mount or side mount.

On side mount units the NT35 has a working height up to 39.5 ft., a horizontal reach of 24.5 ft. and a bottom of platform height of 34.5 ft. On end mount units the NT38 boasts a working height up to 40.0 ft., a horizontal reach of 26.8 ft. and a bottom of platform height of 35.0 ft.

The NT38 offers working heights up to 42.5 ft., a horizontal reach up to 24.1 ft. and a 37.5 ft. bottom of platform height on side mount models. The NT38 end-mount unit provides operators working heights up to 43.0 ft., a horizontal reach up to 26.3 ft. and a 38.0 ft.

Both units have a gross vehicle weight rating of 15,000 lbs. and come standard with a one-person, 350-lb capacity platform, 370 degrees non-continuous rotation, a hydraulic platform self-leveling system and an open-center hydraulic system.

The Terex HyPower Hybrid System is an available option for these models. The HyPower System allows operators to save fuel, reduce noise and increase efficiency, plus it has been optimized for the utility industry—making it significantly easier for utility operations to go green.