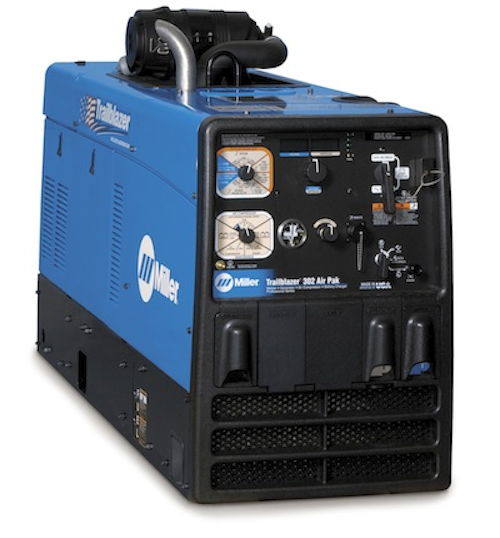 Appleton, Wis.—Miller's Trailblazer 302 Air Pak welder/generator/air compressor is now available with an internal 12/24 V battery charger and jump starter, eliminating the need⎯as well as the costs and truck space required⎯for separate chargers or battery packs to start dead batteries on the job site. The Trailblazer 302 Air Pak provides equipment-repair, construction and structural steel professionals with a self-contained power source that welds at up to 350 amps, provides 13,000 watts of Accu-Rated generator power, 26 CFM of compressed air and, now, 450 A (12 V)/350A (24 V) of battery jumping power.

To extend battery life and help eliminate battery failure, the Trailblazer 302 Air Pak provides charging power (10 to 75 A, as set by the operator) until it senses a load from the starter. The jump-starting mode is activated only when it senses a load from the starter. In addition, if the Trailblazer 302 Air Pak senses a battery with a dead cell, a poor connection or an improper voltage setting, it will inform the operator of the error rather than send a charge. The jumper cables use a standard marine plug to connect to the unit and are available separately.

The Trailblazer 302 Air Pak was recently introduced as the industry's first gasoline engine-driven welder, generator and air compressor that meets job site reliability standards. The battery charge/jump feature doesn't add weight or size to unit, which weighs only 771 lbs. and measures 59-1/2 in. x 20 in. wide x 34-1/4 in. high.