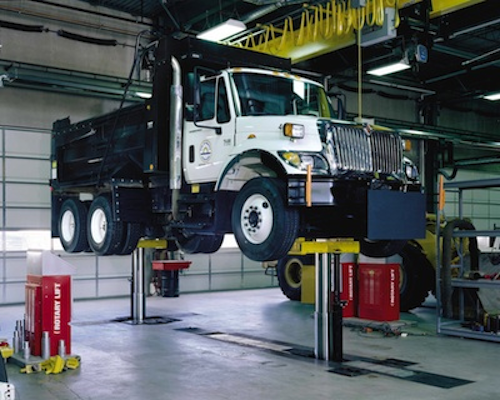 Madison, Ind.—Rotary Lift introduces two new saddle adapters and other design updates for its MOD30 environmentally friendly inground lift. The new adapters provide greater vehicle clearance and flexibility for lifting a wide range of heavy-duty vehicles.

Rotary Lift has updated its MOD30 environmentally friendly inground lift and introduces two new saddle adapters to provide greater vehicle clearance and flexibility for lifting a wide range of heavy-duty vehicles.

"Technicians and fleet maintenance managers love the MOD30's versatility, productivity, user-friendliness and proven performance," said Doug Spiller, Rotary Lift heavy duty product manager. "Through our focus on continuous improvement, Rotary Lift has partnered with key customer fleets around the country to develop new saddle adapters and other design enhancements to make the MOD30 even better."

The MOD30 raises trucks for service using two or three hydraulic posts. Rotary Lift has developed a lower-profile version of its patented universal saddle adapter for the front post. This truck saddle offers the same extensive reach as the standard saddle, while providing greater clearance between the lift and the truck. This design makes it easier to pick up vehicles with low ground clearance, such as snow plows. The adapter can be retracted fully into the ground for zero obstructions when the lift is not in use.

For maximum flexibility, fleets can choose between Rotary's standard universal saddle adapter or a new "six-pack" adapter for the MOD30's rear post. The new saddle features six receptacles that can hold multiple inserts that not only swivel 360 degrees, but also slide left and right to provide an incomparable pick-up range. As a result, the adapters can reach into areas that other adapters can't access. This design enables the MOD30 to safely lift vehicles using the pick-up points recommended by their manufacturers.

Both of the MOD30's saddle adapters offer a greater adjustment range than any other, making lift set-up faster and easier for technicians. As a result, technicians spend less time positioning the vehicle and can get to work faster.

Technicians operate the MOD30 while standing comfortably at the upright control console. The console also provides lift status, operation and maintenance information, online training guides and programmable wheelbase settings to save technicians time. Joystick controls allow infinite speed control for locating and connecting with confined lifting points. Rotary Lift has improved the console's graphical display to make it easier to match the screen image to the lift layout. The console access panels have also been redesigned so the units can be installed flush against a wall, if desired.

Rotary Lift invented the first environmentally friendly inground lift more than 15 years ago. The MOD30's revolutionary design reflects the company's commitment to developing equipment that improves technician productivity and safety while protecting the environment.

The MOD30 is totally contained in a six-foot deep steel enclosure that is completely sealed inside and out with Rotary Lift's exclusive EnviroGuard coating, a quarter-inch thick polyurethane sealant that is covered by warranty against damage caused by electrolysis and harsh contaminants for 10 years. The containment forms a barrier between the lift and the ground which traps oil and other shop fluids that might come into the lift housing, while at the same time locking out groundwater and contaminants from the outside. Rotary Lift's patented LDS Liquid Detection System monitors the system and signals the technician if liquid accumulates in the lift housing. In fact, the MOD30 is cited to be the only heavy-duty inground lift to meet the environmental standards of underground storage tanks (USTs), including leak detection, fluid monitoring, fluid extraction and an alarm system.

The MOD30 is also energy-efficient. It uses far less electricity than other lifts. Wheelbase adjustment requires just a 1/2 horsepower motor. For setup, individual cylinders can be raised by themselves, one at a time using a 5 hp motor. Only after all axles are engaged will the units operate all lifting motors. This function is managed by a variable frequency drive that delivers reduced energy for loads below the lift's maximum capacity.

The Rotary Lift MOD30 environmentally friendly inground lift has been third-party tested by ETL and ALI certified to meet ANSI safety and performance standards. It is made in the U.S.A. and meets Buy America requirements. Rotary Lift is a GSA contract holder, GSA contract #GS-07F-8953D (Dover Industries, Inc., DBA Rotary Lift).
For more information on Rotary Lift or other lifts, click here to go to Utiity Products' Buyers Guide.