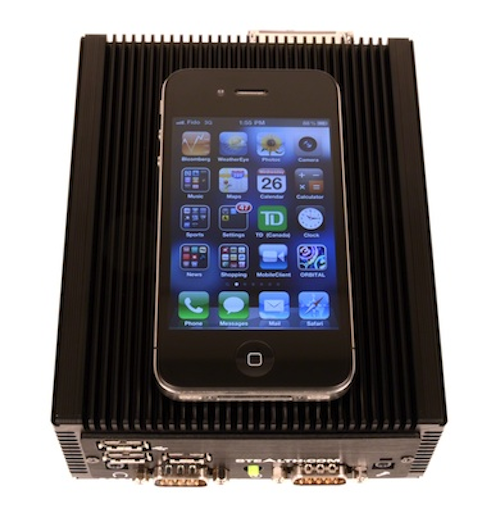 Toronto, Canada/San Jose, Calif.—Stealth.com Inc. (Stealth Computer), an ISO 9001 manufacturer of industrial rugged computers and peripherals, has released the new model LPC-125LPFM, a rugged, small footprint, fanless computer for industrial, mobile/in-vehicle and embedded applications.

The LPC-125LPFM is cited to be a breakthrough in small form factor computing. The rugged, small size, noise free computer operates in wide temperature ranges and draws less than 20 watts of operational power. This energy efficient and versatile PC measures 4.6" x 6.1" x 2.0". The Stealth Mini PC weighs a mere 1.2 lbs. The PC operates from 10-26V of DC power, making it ideal for DC powered applications typically found in vehicle and mobile applications.

According to Stealth CEO, Ed Boutilier; "The LPC-125LPFM is the smallest fanless PC we have offered to date. The rugged chassis, wide operating temperatures, DC voltage input and our smart power interface for controlled system start-up and shut-down makes it ideal for embedded, field and in-vehicle computing apps."

Stealth's fanless mobile PC utilizes the energy saving Intel D525 Pineview 1.8GHz Dual Core processor technology with two physical cores and four Intel Hyperthreading resources (two per core). The Stealth ultra low-powered computer provides plenty of performance for most embedded and in-vehicle applications.

The LPC-125LPFM Mini PC features a multitude of I/O connectivity built directly into its small design: Gigabit LAN, 3-USB, 2-Serial, Video, Audio In/Out, 2-PS/2 ports and 1-external express card slot. The rear locking DC power connector ensures power is securely in place. The LPC-125LPFM also features an internal Mini-PCIe card slot for special expansion capability and supports up to 4GB of DDR3 SODIMM memory.

The LPC-125LPFM computer comes standard with a 55GB solid-state drive (SSD), providing for extended operating temperatures, vibration and shock. The PC will operate from 14 to 113F. If extended temperature, shock and vibration is not a concern, the ultra small computer can be configured with a 2.5" mobile hard drive with capacities up to 750GB. Systems are compatible with Microsoft Windows 7/XP, Linux, etc. and can be custom configured to meet the exact needs of the OEM or end user.

For more information about Stealth.com or other computers, click here to go to Utility Products' Buyers Guide.