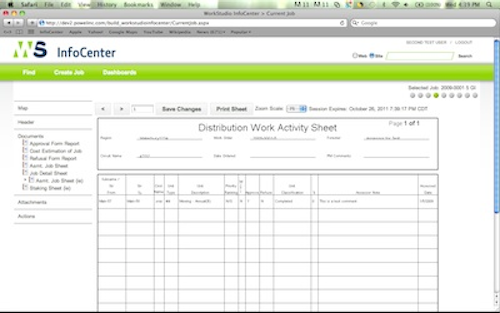 St. Paul, Minn.—Powel Inc., a developer of software that helps utilities work smarter, has released version 8.0 of its WorkStudio mobile work management software platform that synchronizes office, customer and engineering data from utility construction and maintenance operations for accurate, streamlined work management.

WorkStudio 8.0 represents a significant redesign from version 7.5 that offers a more flexible, open architecture for integrating and graphically depicting enterprise systems and workflows. The application uses new web-based tools to merge information from a utility's office and field activities, enabling collaborative work that can be managed from any location using most computing platforms, with support for popular smart phones and tablets.

"With this evolution of WorkStudio, we're able to quickly model the workflow of a utility to streamline the flow of information from the office to the field and back. This seamless flow of information keeps everyone involved in work management processes informed and productive," said Powel CEO Scott Rogers. "Current and new WorkStudio users will find that 8.0 takes that vision another step forward by placing more capabilities in their hands so that all stakeholders have greater situational awareness of daily operations no matter where they're located."

WorkStudio has built a leading market position by automating typical utility work functions including vegetation management, storm assessment, maintenance management and engineering design. Version 8.0 uses the open, web-based DotNetNuke framework, allowing Powel and other developers to quickly build and expand these and complementary applications.

A graphical workflow modeling engine in 8.0 eases the design and management of work processes for multiple job types. Personnel throughout an organization can visualize a particular job or plan and its status. Workflows become easier to understand, prioritize and modify through point and click configuration. This is particularly useful when employees assume a job started by someone else. All work in progress is rendered geospatially in a work map to present all activity in a service area. Web-based reporting provides immediate access to analysis and work in progress that can be shared with contractors and customers.

In addition to a more simplified look and feel, WorkStudio 8.0 includes new layers to internet map services such as Bing and Open Street Maps for updated and detailed road data. There is also expanded two-way automatic vehicle locating functionality (AVL) that all allows connection with WorkStudio and various other clients, servers or devices.


For more information on Powel or other work management software, click here to go to Utility Product's Buyers Guide.