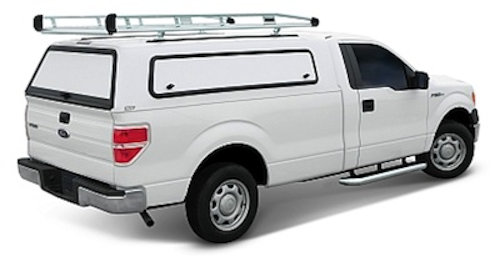 Massillon, Ohio—Truck cap manufacturer A.R.E. offers commercial customers a new fiberglass truck cap called the ToolMaster Series, which is available for all current model trucks.

The ToolMaster Series is a rugged truck cap featuring heavy-duty doors, two steel toolboxes each with a 120-pound weight capacity and a commercial-grade Prime Design AluRack roof rack with a ladder rack roller. Side and rear doors with aluminum inserts for privacy and security also come standard on the ToolMaster Series.

"Today's commercial users need a truck cap solution that is durable enough to stand up to elements in the field but that also looks good when meeting with current and potential clients," said Jim Blayne, commercial and fleet division sales manager, A.R.E. "Our ToolMaster Series delivers the best of both worlds thanks to its fiberglass construction, which is strong yet stylish. And the additional features, such as the over-the-cab AluRack, allow for easy material handling and removal on the job site."

A.R.E. also offers optional accessories for the ToolMaster Series, including Kargo Master bed mounted racks, BedSlide rolling drawer systems, AluRack locking ladder attachments and interior lighting and carpeting.